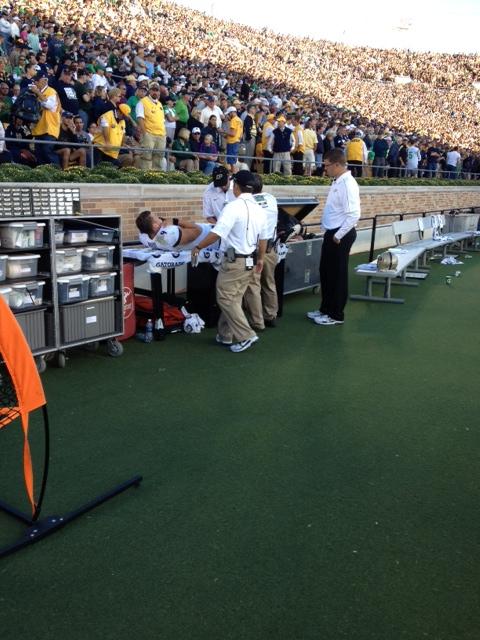 Purdue quarterback Robert Marve sat on the bench near the end of the Notre Dame Purdue game Saturday and prayed.  Sitting all alone, he closed his eyes and with his lips barely moving, he whispered something to himself. I wasn't close enough to hear but guessed it didn't have anything to do with the fact that Notre Dame was driving in the final seconds of the 4th quarter on their way to a game winning field goal. Instead, I figured it likely had something to do with the huge pack of ice that was tightly wrapped around his left knee.  It's the same knee that Marve had surgery on his first year at Purdue and then again in 2010.  It feels unfair for a 22 year old to possibly be facing a 3rd knee surgery.
While one quarterback may have played his last snap, another was getting a shot at redemption. On the final drive of a tie game, Junior Tommy Rees was sent in to save the Irish. "Think of Tommy as close relief," head coach Brian Kelly said in a conversation prior to the game when asked about his back-up situation. "We are committed to Everett and his development, but we have a guy with a lot of experience that can come in".  Tommy, once the starter before he fell from grace through turnovers and a summer arrest, looked like Mariano Rivera making what might be the save of the season.  But the thought occurred to me, had it not gone so well, could Rees have been more like Robert Marve wondering if his career might be over?  What would have the reaction been if the Irish didn't pick up any points on the drive? Would Tommy Rees have been blamed for a loss or benched for good?
Before the game started Notre Dame supporter and Alumni Bill Warren shared with me on the sideline that he had made some calls earlier in the day to a hospital and doctors in Tulsa to help an injured football player. A Tulsa native, Mr. Warren is the chairman Emeritus and Vice president of a number of clinics and hospitals in Tulsa.  It wasn't until I go back to my hotel and saw the video that I understood the gravity of the injury to Tulane safety Davon Walker. We should all say some prayers for him.  I hope mr. Warren's calls helped.