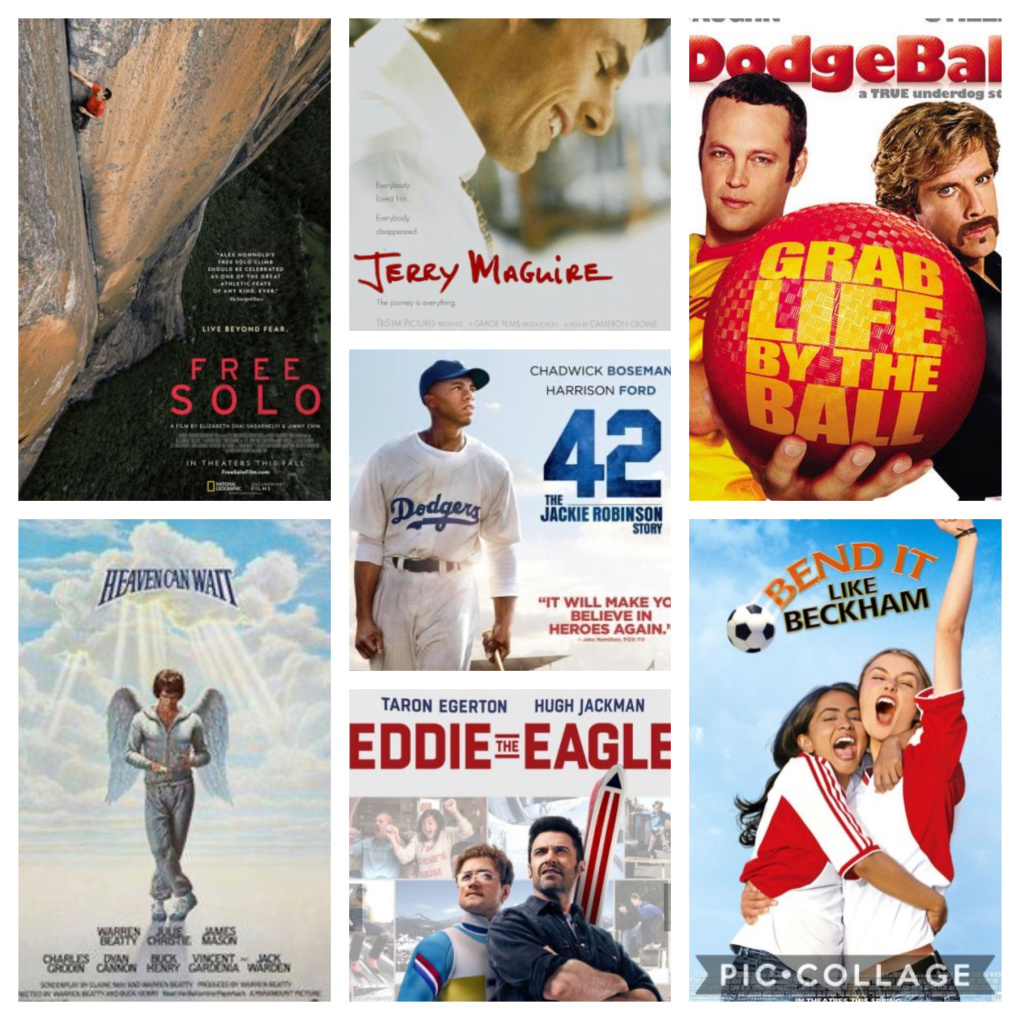 What I love about sports-themed movies is how often they leave us feeling inspired, educated, challenged, and motivated, or sometimes just simply entertained. The list below is filled with films about overcoming adversity to beat the odds, breaking down racial and cultural barriers, or sticking together to standing up for a greater cause. And because the sports world is easy to spoof, there are a few hilarious comedies thrown in if you just need to laugh. Here is my list of the 54 best sports movies for families. (Click on the image for a direct link to the movie on Amazon Prime).
54 SPORTS MOVIES FOR THE FAMILY
KICKING & SCREAMING (2005) PG: Will Ferrell is hilarious in this comedy that has become a classic in our home. Former Bear's coach Mike Ditka helps Ferrell coach a ragtag soccer team against his overachieving Dad. Fun for all members of the family. Teaches the important life lesson that winning isn't everything.
MILLION DOLLAR ARM (2014) PG: A self-absorbed sports agent goes to India hoping to transform Indian cricket players into Major league baseball pitchers. A great story about what it's like to be different. Also, give the kids a little bit of an education on Indian culture.
MCFARLAND USA (2015) PG: Big budget Disney film based on the true story of Jim White, a down on his luck coach played by Kevin Costner, who lands a job in the poor and predominately Latino city of McFarland, CA. Costner turns an unlikely group of high school boys into one of the best cross country teams. A heartwarming and inspirational story about never giving up, sticking together and overcoming the odds.
THE SANDLOT (1993) PG: Considered by many as the greatest kids movie ever. A classic film the whole family will like about the challenge and adventures of a young boy who moves into a new neighborhood and is trying to fit in by playing baseball with the other kids. Lots of laughs and life lessons about determination, drive, and friendship.
HOOSIERS (1986) PG: Many call this the best sports movie ever made. Must watch film about an underdog coach and a team that defies the odds and go to the Indiana State finals. Starring Gene Hackman, Barbara Hershey, and Dennis Hopper.HOOSIERS (1986) PG: Many call this the best sports movie ever made. Must watch film about an underdog coach and a team that defies the odds and go to the Indiana State finals. Starring Gene Hackman, Barbara Hershey, and Dennis Hopper.
PELE (2016) PG: I watched this movie on the plane trip back from the Rio Olympics and fell in love with it. It the rags to riches story of one of Brazil's iconic soccer players, Pele. I was struck by the financial, social and racial economics he overcame in the first few decades of his life to become one of the country's national treasures. If you even like soccer a little bit, you will be entertained by this.
FIELD OF DREAMS (1989) PG: Classic baseball movie starring Kevin Costner as an Iowa farmer who builds a baseball field in his cornfield that is visited by the ghost of baseball's past. A great movie that also teaches some baseball history.
THE NATURAL (1984) PG: Arguably one of the best baseball movies ever made. Nominated for four Academy Awards. Starring Robert Redford. A beautifully shot movie that tells the story of success and failure through the game of baseball. One note. Make sure you have enough time for this one. It is long, running 2 hours and 18 minutes.
RUDY (1993) PG: Legendary movie. Undersized Rudy overcomes the odds to play football for Notre Dame. This movie is timeless, a family favorite and a fun way to see Notre Dame Stadium.
HEAVEN CAN WAIT (1978) PG: One of my all-time favorites. Old school movie. Warren Beatty becomes Quarterback Joe Pendleton of the L.A. Rams after he accidentally gets taken to heaven too soon by an over-eager angel.
MIRACLE (2004) PG: this movie is a good history lesson on one the greatest moments in sports history, "the miracle on ice". The true story of the 1980 Winter Olympics when the United States beat the Soviet Union in Hockey. Stars Kurt Russell.
THE ROOKIE (2002) G A big-budget Disney Movie based on the true inspirational story of Jimmy Morris(Dennis Quaid) about a baseball coach who overcomes the odds to make his almost impossible dream of pitching in the big leagues come true.
INVINCIBLE (2006) PG: The story of a bartender and substitute teacher in Philadelphia who despite never having played football goes to the Eagles open tryouts and makes the team.
DREAMER (2005) PG: this is a super sweet movie about a girl and her love and belief in a washed-up horse. A great film for the whole family staring Kurt Russell and a young Dakota Fanning.
SOUL SURFER (2011) PG: A true story based on the life of Bethany Hamilton. A successful teenage surfer who loses an arm in a shark attack and refuses to quit the sport she loves.
A LEAGUE OF THEIR OWN (1992) PG: Geena Davis, Tom Hanks and Rosie O'Donnell star in this Dramedy about an all-female baseball league formed during World War II.
AIR BUD (1997) PG: A young man struggling with the death of his Dad finds reprieve in his pet dog, Bud. Bud is a stray who turns the kid's life around when he joins the school's basketball team.
THE EXPRESS (2008) PG: The story of the first African-American, Syracuse's Ernie Davis, to win the Heisman Trophy. An inspirational film packed with football.
SEARCHING FOR BOBBY FISHER (1993) PG: The story of a young chess prodigy. Starring, Laurence Fishburne, and Ben Kingsley. Bobby is forced to deal with the stress and pressures of being one of the top chess players in the world, but he refuses to adopt the same approach as real-life legend Bobby Fisher.
KARATE KID (1984)PG: We love the original one starring Ralph Macchio. The classic tale of the underdog overcoming adversity. A young boy is taught Karate to defend himself from bullies by an unlikely mentor, Mr. Miyagi.
THE MIGHTY DUCKS (1992) PG: A self-absorbed Lawyer has to coach a ragtag youth hockey team as his community service. Starring Emilio Estevez.
ROOKIE OF THE YEAR (1993) PG: A young boy's dream of playing in the major leagues comes true after shoulder surgery causes his tendons to heal so tightly he can pitch 103 mph. 12-year-old Henry becomes the youngest player to ever play in the big leagues.
LITTLE GIANTS (1994) PG: A young girl who doesn't make the town's top pee wee football team forms her own team made up of outcasts. The bad news bears of pee wee football. A sweet movie for both boys and girls about believing in yourself.
REMEMBER THE TITANS (2000) PG: This Disney classic stars Denzel Washington a football coach of a football team during the forced desegregation of a Virginia high school in the early 1970s.
ROCKY (1976) PG: Sylvester Stallone stars in one of the best-known sports films of all time about a small-time boxer from working-class Philadelphia. Rocky Balboa is chosen to take on the reigning world heavyweight champion.
SPACE JAM (1996) PG: Michael Jordan plays basketball with bugs bunny, Daffy Duck and the rest of the looney toons. Kind of a silly, mindless movie that will entertain the kids.
CHARIOTS OF FIRE (1981) PG: Academy Award Best Picture. The true story of two British Track stars journey to winning a gold medal in the 1924 Paris Olympics. A beautiful and patriotic film.
THE BIG GREEN (1995) PG: A group of misfit kids in a small town in Texas are coached soccer by a teacher from England.
SECRETARIAT (2010) PG: Long before there was American Pharaoh, there was Secretariat, still arguably the best racehorse ever. Based on the true story of the 1973 triple crown winner and the family who owned him.
WE ARE MARSHALL (2006) PG: Warner Brothers movie starring Matthew McConaughey as the football coach tasked with rebuilding a team tragically decimated after it's players are killed in a plane crash. Based on the true-life events.
ANGELS IN THE OUTFIELD (1994) PG: Disney movie starring Danny Glover and Tony Danza star in this a young boy's prayers are answered by 2 angels that come out of the sky and not only lead a baseball team to wins, but a life lesson about hope and courage and loyalty.
COOL RUNNINGS (1993) PG: Fun movie about a group of Jamaican bobsledders who dream of competing in the Winter Olympics, even though they have never seen snow. John Candy stars as the former disgraced champion tasked with coaching them. Loosely based on a true story.
FOR FAMILIES WITH OLDER KIDS
FORD V FERRARI (2019) PG-13: I thought this movie was excellent, but it is long. So start it early and make some extra popcorn. Based on the real-life story of the battle between automakers Ford and Ferrari and a famous American car maker his British driver. the racing scenes will keep you on the edge of your seat and the story will keep you engaged.
BATTLE OF THE SEXES (2017) PG-13: The story of the legendry tennis match between women's #1 player Billy Jean King and former men's champion Bobby Riggs who didn't think a woman was capable of beating him. Though it is about an event that took place in 1973, the film addresses themes of equality and gender inequity that are still relevant issues today.
PEANUT BUTTER FALCON (2019) PG-13: A tender film about a boy with Down syndrome, who runs away from his home to find the professional wrestler he admires from watching on TV. Along the way, he creates a friendship with a small-time outlaw on the run who becomes his coach. An unlikely friendship and bond forms and the result is an uplifting ad inspirational film.
EDDIE THE EAGLE (2016) PG-13: Sweet, feel-good movie. Based on the real-life story of a British ski-jumper who refused to give up on his unlikely Olympic dream.
DODGEBALL (2004) PG-13: This is a total goofball, slapstick comedy. But it is hilarious. Starting Vince Vaugn and Ben Stiller…need I say more.
HOOP DREAMS (1984) PG-13: basketball documentary was largely financed by PBS. It's the real-life story of two young basketball players trying to make it out of their poor Chicago neighborhood.
BLADES OF GLORY PG-13 (2007): slightly raunchy movie starring Will Farrell. My kids think this slapstick comedy is hysterical. It is a silly spoof on pairs figure skating that includes some sexual humor and language.
FREE SOLO (2018 )PG-13: I took the whole family to see this when it was in the theaters. It is an amazing documentary. Rated PG-13 for some language, but maybe more because of the underlying reality at the heart of the film…one wrong step and it's main character will die. I remain in awe of climber Alex Hannod's courage, focus, and drive. What he does in this film is considered by some to be the greatest athletic achievement of all time.
SEA BISCUIT (2003) PG-13: An unlikely horse becomes a champion and a symbol of hope for Americans during the great depression.
MONEYBALL (2011) PG-13: Before analytics were a thing in sports, Oakland A's General Manager, Billy Beane, started using statistics to build a roster. Based on a real-life story, this is an entertaining and intriguing movie about the business of baseball and how numbers and stats are being increasingly used in sports.
RACE (2016) PG-13: An inspiring film based on the true-life story of Jessie Owens. This is the story of an unlikely champion, a black man, standing up to the racial prejudice of Nazi Germany in 1936.
COACH CARTER (2005) PG-13: We should all watch this one as a reminder that school is more important than sports. Based on a true story of a basketball coach played by Samuel L. Jackson who shuts down his team's championship season when their grades slip.
BEND IT LIKE BECKHAM (2002) PG-13: A coming of life story about an Indian Girl playing soccer in England even though her family doesn't approve.
42 (2013) PG-13: The story of sports icon Jackie Robinson who broke baseball's color barriers as the first African American to play professional baseball. An inspirational story that all American's should know. One note, the N-word is used throughout the film to authentically represent how Robinson was spoken to. For me, it was an opportunity to discuss with my children the history of the word and what it represents today.
FRIDAY NIGHT LIGHTS (2004) PG-13: The story of a football-obsessed small town in Texas. Struggles, challenges and life lessons unfold through a story about football. The film handles subjects like alcoholism, accepting your parents, dealing with failure and taking charge of your own destiny.
UNDEFEATED (2011) PG-13: Academy Award winner for best documentary feature. Tells the story of the struggles of a high school football team in Memphis trying to win after many losing seasons. The film earned high critical acclaim by many.
THE BLIND SIDE (2009) PG-13: Semi-biographical film about NFL Player Michael Oher and his impoverished upbringing and his adoption. Sandra Bullock won the Academy Award for Best Actress for her portrayal of the woman who took Oher in and helped him become a first-round draft pick in the NFL. A feel-good hollywood movie.
INVICTUS (2009) PG-13: A film about how sports can bring people together. The amazing real-life story of how Nelson Mandela joined with the captain of South Africa's rugby team to help unite a country with deep racial wounds.
CONCUSSION (2015) PG-13: it takes a little while for this film to get going, but it is an interesting look into one doctor's struggle to make public his findings on CTE in football players. The subject matter is very timely with so much focussed on the effects of head injuries in sports. It stars Will Smith.
THE ENDLESS SUMMER (1966): For our So. Cal kids. The most epic and legendary surf film ever. The documentary about 2 friends searching the world including surf spots in Hawaii, Australia, and South Africa for "The Perfect Wave." In 2002 the film was selected for preservation in the United States National Film Registry by the Library of Congress as being "culturally, historically, or aesthetically significant".
WIMBLEDON (2004) PG-13: This movie is a little cheesy, but still a heartwarming romantic comedy worth watching. It is about a tennis player, on the backend of his career who finds inspiration from a female player on the women's circuit. Kind of predictable, but nice.
JERRY MAGUIRE (1996) R: This is the only R rated movie on the list, but I had to include it. One of the best sports movies of all time starring Tom Cruise, Renee Zellweger, and Cuba Gooding Jr. Partly inspired by Leigh Steinberg, the real-life agent of Kansas City Chiefs QB Patrick Mahomes, before Steinberg experienced a fall from grace and underwent his own successful reinvention. This is the story of an agent fueled by ego and money who is forced to reinvent himself and finds love and meaning along the way…which ironically more than twenty years after it was made is actually now the real-life story of Steinberg.