Cathy Anhalt, is trying to pull it together for her son. Tonight her middle child, Carson Wentz, will soon become the second overall pick in the 2016 NFL draft and she feels like a huge yarn ball of anxiety trying to keep herself from unwinding. While her son is on the verge of realizing a nearly impossible dream and becoming a multi-millionaire, she realizes she doesn't have the right shoes to go with her draft-day dress.
Carson has spent a whirlwind week in Chicago being introduced to the glamorous side of life in the NFL; she's been in the city too, attending meetings for her job with the American Heart Association and now, for the first time in her life, she's going to be walking a red carpet – a feature the NFL added to the draft day hoopla a few years back.
She's doing her best not to freak out. After all, this is her son's moment, not hers. Her goal is to be there to support him but not bother him. But she wants to look nice too. I meet her in the Spa at the Palmer House Hotel Wednesday evening just before her massage and pedicure courtesy of the NFL Players Association started. She's carrying the bag with the shoes she bought Tuesday at a Designer Shoe Warehouse store in Chicago and is going to show them to some of the women working for the NFLPA to make sure they match her simple black dress.
Carson will soon move from the state he's lived in since he was three years old, North Dakota, to the city of the team that drafts him. Most likely, Philadelphia. His older brother, Zach, will go with him. It's all a little bittersweet for Cathy. She will still have her 14-year-old son, Luke at home and her husband, Kevin Anhalt, in Bismarck, but her two older boys will be gone. Anyone who has sent a child away to college can relate to how she's feeling. Happy and fighting back the tears simultaneously at the realization that your children are now grownups, which means the heavy lifting of your job as a mom is kind of done. And there was a fair amount of heavy lifting.
Carson Wentz wasn't always the easiest kid. She calls him her rambunctious, determined child. "He has been a challenge since day one," recalls Cathy. "He always had to be busy doing something. He had lots of energy. I learned early on to simply embrace his personality and love him unconditionally." She also found him outlets where he could channel that energy. Sports and school. He played everything from football, baseball, basketball and hockey to whiffle ball. "If he wasn't the best, he wasn't good enough", says Cathy of the son she says has always known how to push her buttons.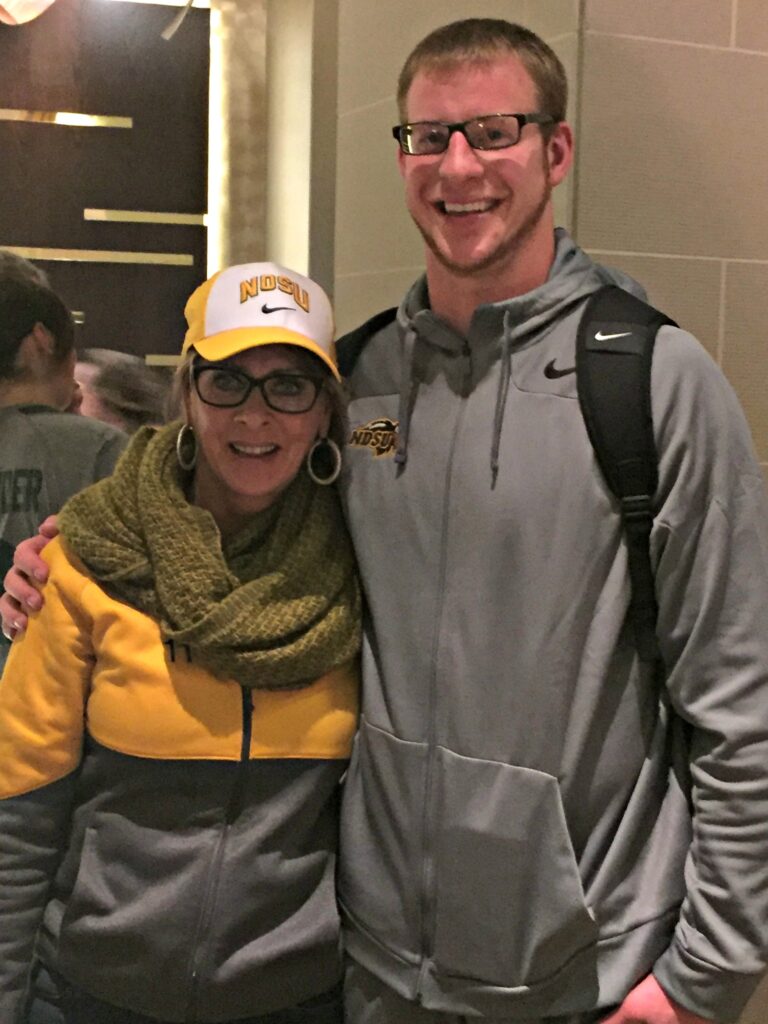 As Carson described it to the Players Tribune, "It did not matter what we were doing, everything was a competition." And the goal was always to beat his big brother Zach, three years his senior. "Granted, I didn't beat him a whole lot. But I never quit trying to replace him as our household's best athlete, even if it meant begging him for rematches constantly", Carson shared. "Some of my competitiveness is God-given — but a whole lot of it was developed during weekend whiffle ball games with big bro." Carson played six different sports in high school while maintaining a 4.0 grade point average.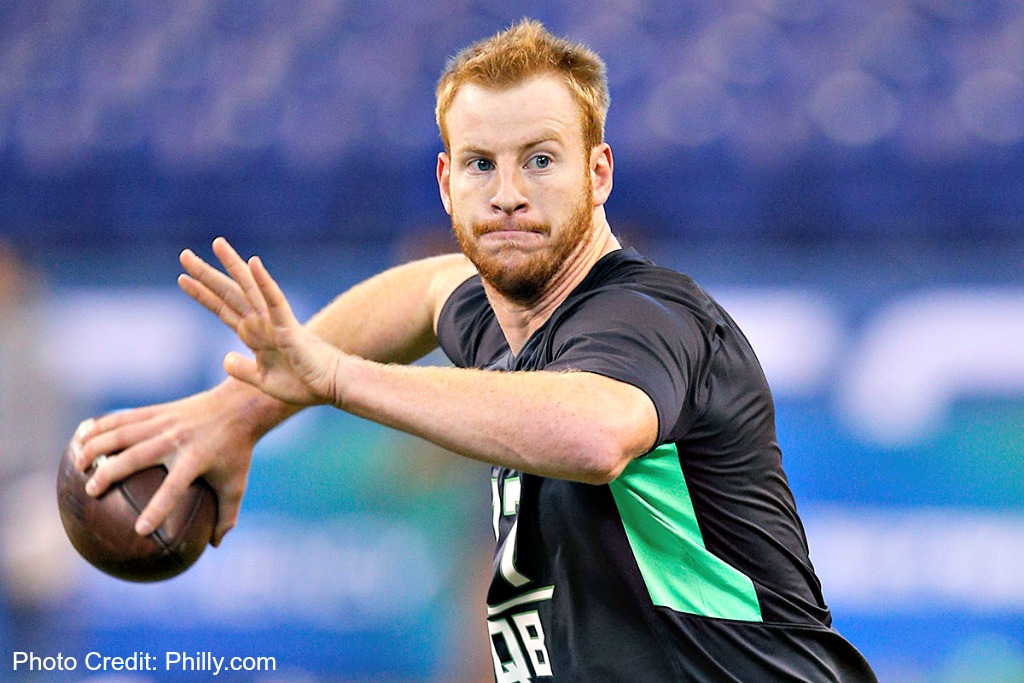 On this first day of the 2016 NFL draft, when his strong arm, his 6'5, 235-pound frame, his 20-3 record and the two national titles he won at North Dakota State will be talked about at nauseam, what Carson Wentz's mom will feel most proud of is her son's determination. She recently found a book that belonged to Carson in second grade. In it he wrote how when he grows up he wants to be a football player. He was stick skinny and not the most physically gifted kid but he never shied away from contact and played whatever position would get him on the field; running back, corner, even kick returner. She should have known that her kid, who hates to lose, would win, but she admits it wasn't until sometime during his Junior year in college that she started believing his dream could become a reality.
On the night before the draft, at an NFL draft event, Cathy and the rest of the Wentz family shared some of the things they remembered about Carson. All the memories came flooding back… the carpools, dirty uniforms, ice packs, snacks, coaches, doctors appointments, injuries, wins and losses, highs, and lows. The people who stood by Carson and Cathy on this journey and those that didn't.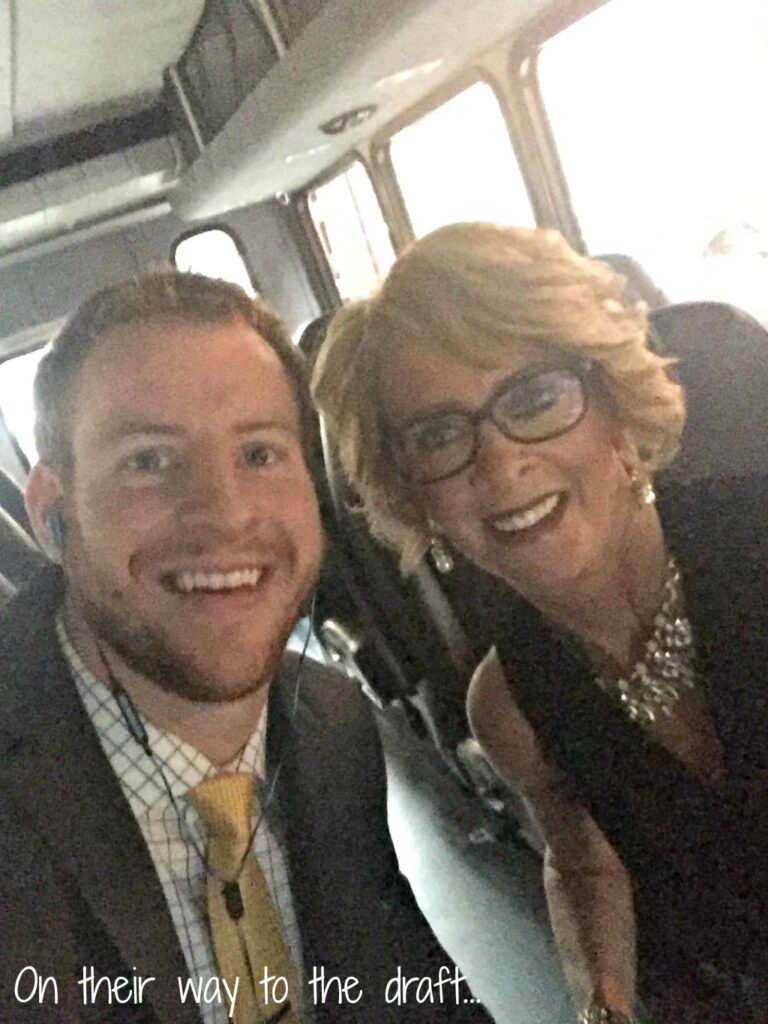 When Carson Wentz's name is called by NFL Commissioner Roger Goodell, and he walks across the stage of the Auditorium Theatre in Chicago, his life and Cathy's will change dramatically. Carson will be whisked away to begin his professional life as an adult. Cathy will go home to North Dakota, closing a chapter in her son's book and her own. Her greatest hope for her son through it all is that,"He stays happy, healthy and humble and that he ALWAYS keeps his faith." That's the example she set for him all these years… nurturing Carson's dream and passion as best she could – and that is her biggest victory.