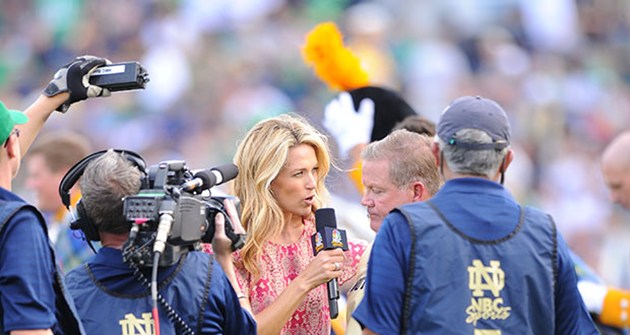 By Kathleen Neville
NFLPE Consultant
Alex Flanagan, NBC's highly-respected sideline reporter for the Notre Dame Fighting Irish home games since 2007, clearly knows her football.
With years of experience interviewing both collegiate and professional athletes across the country and around the globe, the seasoned sportscaster knows much more than the intricacies of how the game of football is played; she knows exactly what reporters are looking for when they place a microphone in front of a player.
According to Alex, the ability to provide an articulate and forthcoming interview to a member of the media must be part of today's athlete's skill set. Understanding the basics on how both traditional and social media work as well as being aware of the expectations of reporters assigned to cover you and your team is something players should become familiar with early on.

Be Natural
Alex, who is also a host and reporter for The NFL Network and part of the network's Thursday Night Football broadcast team, stresses the first and most basic rule for players is that they must strive to be themselves while in front of the camera.
She also points out how critical it is that the athlete doesn't change his energy on camera. She urges the player to "be who you are." According to Alex, the authenticity factor makes or breaks the interview and is something the player must fully master and maintain throughout his playing experience.
"It's really important that the athlete be as natural as possible during an interview," offers Alex. "Often inexperienced players, those new to giving interviews, will freeze at the sight of a camera suddenly pointed at their face. They become stiff and very unnatural. Unfortunately, the fans and viewers don't get to see who the player really is. Everyone misses out."

Be Specific and Detailed in Your Response
Alex reveals that her primary goal is to crack the best answer from a player. Her mission is to look for more detail and color from the player and less of a generic response.
"Canned answers aren't what reporters are looking for but we do understand that an athlete may sometimes be encouraged to act and speak as a team player and will want to communicate that in his answer. I believe you can work with the same message but still give greater detail and color by taking me one step further. Take me into a moment. If it really was a team effort, tell me how it worked. 'It was a team effort because of the way we communicated or because of the way we practiced that play, etc.'"
Also, instead of a player saying "My offensive line played so well, I have to give them credit," it is far more effective for the player to offer details as to why the offensive line deserves such credit. A better answer might be "On that big play, the right guard did this… and this…and that is why I was able to make that run."
"Yes, a player can and should promote that he is a team player but detail and color is what I'm looking for and certainly what the fan and the viewer is looking for."
Alex cites Notre Dame Coach Kelly as a true pro when it comes to providing an insightful viewpoint and an insider prospective to the fans. According to Alex, the coach who led his undefeated team to the National Championship this year understands what the fans want and need from him, and unfailingly, he makes sure he delivers it.

Be Prepared for the Well-Prepared Reporter
Alex wants players to be wholly aware that reporters work hard at being fully prepared for interviews they plan to conduct. She emphasizes that players must also be prepared and ready for what could be an on-the-spot interview. "I absolutely spend a lot of time preparing for what can amount to a thirty second interview. I log the game, breakdown the questions and am always looking for those extraordinary moments to discuss with the players.
"Players must keep in mind that the media consists of individuals who are well-trained to do what we do. The audience wants to know who you are and it's my job to find that out."
She further shares that players should remember that their answer is far more important than a reporter's question. Those watching and listening are interested in what you have to say and how you say it. The actual question is secondary; it is what you say that often becomes a stand alone sound bite.
Alex notes that, "Above all, as reporters, our job is to provide our audience insight into the game as well as the team, coach, and players. Fans give three and a half hours of their time to tune-in and watch your game. They love you. They follow you. They want insight into the game from your perspective. Simply put, they what to know what it is like to be you! Share the moment with them!"
(Originally published in 2013 on the NFL Player Engagement website. https://www.nflplayerengagement.com/search-results/?q=alex+flanagan