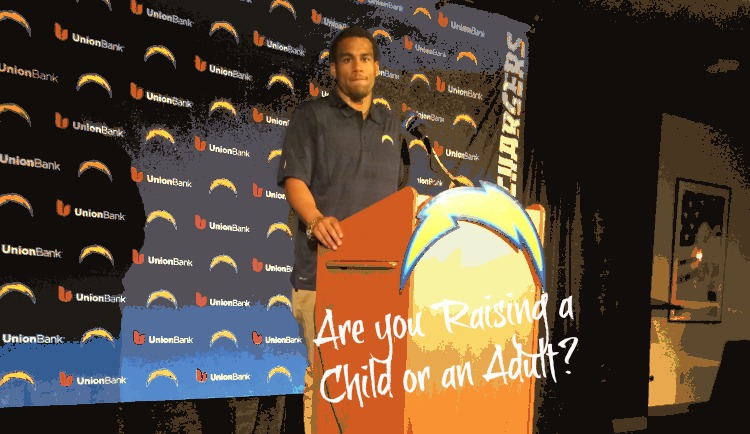 Shortly after I met NFL Rookie Craig Mager this past week, I learned he lost his mom when he was 15 years old. His little sister was sleeping next to her and couldn't get her to wake her up one morning. She died of an accidental overdose from medicine prescribed to treat a severe headache. Her death thrust Mager into the role of raising his three younger siblings. Seven years later, Mager found himself standing at a podium talking about it. With the glare of lights in his face, surrounded by cameras, he wondered if she was partly responsible for The San Diego Chargers selecting him in the 3rd round of the NFL draft, at least two rounds higher than he had expected.
"She's probably standing up here with me right now," said Mager nodding over his shoulder, as if to indicate someone was standing on stage next to him. "You never know. It's good to have a couple of angels always looking after your back. I'm sure she has something to do with this." Surely, she did. But as a parent of three children myself, I wondered, how?
Mike McArdle studies the development of the human mind. He had a similar question to mine when he saw the inspiring story of another NFL rookie, Nate Boyer. Boyer is a 34-year-old Green Beret and a self-taught long snapper. He wasn't drafted, but believes he can play in the NFL. The Seattle Seahawks are giving him a chance as an undrafted free agent.
What do Craig and Nate have in their DNA that has allowed them to walk through life with such grace and is it something that we as parents can teach our own children? I asked McArdle, a Learning Research Specialist and the former Executive Director of the non-profit Learning Patterns Corporation, to share his thoughts on the one quality these two athletes seem to have that we all should be striving to instill in our children…a sense of "others". Here is what he wrote.
The World of "Others"
Deep in the heart of Texas, two people followed entirely different paths, yet walked side by side through life. Craig Mager and Nate Boyer may have never met, but they have something in common: Each had someone in their respective lives who knew how to raise an adult.
You see, in Texas, ranchers raise cattle – not calves. They raise sheep – not lambs. Farmers raise chickens – not chicks. The point is, they raise the future version of the creature they care for.
In our society, it seems to me we have too many people raising "children" and not enough people raising "adults." The entire point of parenting is to prepare a developing young adult for life away from home. "Raise them so they leave," was the sage advice I received from my father.
Craig Mager lost his mother when he was only 15 years old. He turned to football as a place of solace and an avenue for anger and frustration. His mother spent 15 years raising him. The question is, was that long enough for her to instill "adult" concepts into her son?
Here is Mager's perspective on life: "I really just try to look up to great people, not necessarily just on the football field, just all around great people. If you're disciplined as a man, and respectful as a man, you'll be respectful as a player and disciplined as a player.  I feel like if you can become a great man first, the player will come after."
Craig Mager's mother raised exactly what we all wish to raise, a respectful young adult with a keen perspective on life.
Nate Boyer's path may have been a bit too easy. He admits to being a bit "selfish" as a young man. "I wasn't really doing anything for anybody else." One day, after reading a Time magazine story about genocide in the Darfur region of Sudan, the switch was flipped. On his own dime he traveled to Africa and volunteered in any way he could. From there the growth continued as he gave back to his country as a Green Beret.
Mager and Boyer share in common a powerful force within humans, a force which allows us to accomplish great and wonderful things: a sense of "others."
For Mager, it was his sense of duty to those whom he loved that led to sacrifices and growth. For Boyer, it was a sense of duty to those whom he should love: innocent lives in hardship and suffering.
If you want to know whether or not you are raising an adult, measure their awareness of others. Empathy, sympathy, compassion, sacrifice, pity, care, concern, tenderness, mercy, tolerance, kindness, humanity, charity, and love all have one thing in common: They cannot exist in a world of "self."