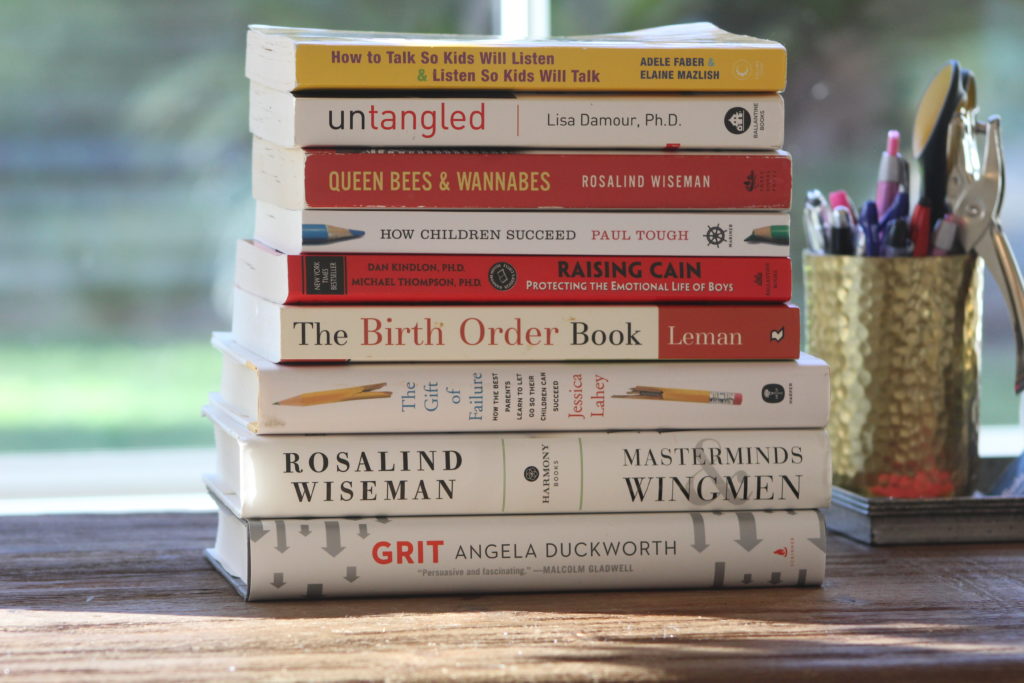 Parenting is the hardest job on the planet. No question. Yet how much time do we invest in understanding how to be good at it? Since raising a child is the most important, challenging, rewarding and depleting job you will ever do, isn't it worth arming yourself with a little bit of knowledge so that you can be sort of good at it?
Here are 9 must-read parenting books that will challenge you, guide you and help you connect the dots in your quest to raise successful, well-adjusted kids. I keep all of them on a shelf close by and reach for them often. I'd love to know some of your favorites too.
9 Must-Read Parenting Books
HOW TO TALK SO KIDS WILL LISTEN & LISTEN SO KIDS WILL TALK  by Adele Faber and Elaine Mazlish 
A humorous and interactive book about how to stop fighting and start communicating effectively with your children. The book includes cartoons and assignments to help you on your path to becoming a better communicator. Even though it was written in 1980, long before social media, the internet and cell phones existed, in some ways, the lessons it teaches seem even more poignant today. How to listen with full attention, how to help your child with their feelings. This book is filled with so many great reminders. One of my favorites…"Resist the temptation to "make better" instantly. Instead of giving advice, continue to accept and reflect your child's feelings."
UNTANGLED by Lisa Damour, Ph.D. 
If you have a daughter you MUST read this book. Even if you have sons, Untangled provides tremendous insight into what it is like for them to deal with girls!  I have marked up and folded so many pages in this guide for parents of a daughter and I reread them often as reminders.  Understanding complex issues like how "research suggests that girls who bully other girls often do so to create a sense of belonging" and how society gives women so many mixed messages that "girls become so perplexed by the funhouse of mirror images of female sexuality that they can't even begin to reflect on what they want for themselves." (I won't start on that tangent, but if you want to know more about the mixed messages women receive this video by girls.girls.girls. will make your jaw drop.)
QUEEN BEES AND WANNABES By Rosalind Wiseman
This New York Times Bestseller is one of the OG girl books.  It is the inspiration for Tina Fey's hit movie, Mean Girls. If you have a daughter and want to empower her to take care of herself and teach her how to treat other women well, read this. Enough said.
MASTERMINDS & WINGMEN By Rosalind Wiseman
The boy version of Queen Bees & Wannabes is Masterminds & Wingmen.  I've learned so much about "boy world" from this book, including how friking hard it must be to be a man! Understanding what the author calls the "act like a man box" and how much it controls boy culture is key to understanding how your son ticks.
HOW CHILDREN SUCCEED by Paul Tough 
This is a good one to listen to on audible because it's a little bit like reading a research paper, but the information is fascinating. Author Paul Tough draws on research and various studies to support the idea that successful people aren't necessarily the kids who scored the highest on tests or received the best education, but instead successful people are born out of the kids who developed skills that have more to do with their character.  Tough sites numerous studies on how kids who are taught skills like perseverance, curiosity, optimism, and self-control are the qualities that matter more than high SAT scores or whether or not your kid is in advanced math or AP courses.
RAISING CAIN By Dan Kindlon, PH.D. and Michael Thompson, PH.D.
I picked up this book when my son starting expressing annoyance when I tried to cuddle and kiss him. There is a whole chapter about mothers and sons and after reading this I understood why when my son pulls away from me not to take it personally.  It's actually a healthy part of his evolution.  This book is largely about breaking down old notions that boys shouldn't feel or have emotions and how much healthier our sons will be if we understand and embrace the emotional needs that society has historically taught them to suppress.
THE BIRTH ORDER BOOK By Dr. Kevin Leman
I LOVE this book! It is all about how birth order affects personality and I found so much of it is spot on. If you ever find yourself wondering why people behave the way they do, you have to read this. The birth order book will help you understand your kids, parents and siblings,  as well as giving you insight into alot of things about yourself, including why you parent the way you do.  It's an easy read and you will likely laugh as you relate to many of the chapters.
THE GIFT OF FAILURE by Jessica Lahey
Even though I've never met the author it feels like her book is based on me and my group of friends! Is there any parent with young children who doesn't relate to this sentence from Lahey's book?
"We are expected to feel good about ourselves and our parenting as we raise children naturally and intuitively, while pouring over more parenting books and magazines than ever about how to raise smart and creative and empathetic children who practice piano on their own, sleep nine hours a night, and play varsity soccer as freshman."
Lahey leans on a number of experts, including coaches and athletes throughout The Gift of Failure to help enlighten us and sometimes even scold us. Turns out chest-bumping a teenage referee over a poor call wasn't just me being crazy; my behavior might have been caused by the Pressured Parents Phenomenon! Here's hoping I still have time to correct the damage I've caused from PPP. I'm not joking!

If there is one thing an athlete needs to succeed it might be grit. In Angela Duckworth's best selling book, the psychologist writes about how the secret to success isn't about talent but has more to do with a special combination of persistence and passion.  Leaning on research and interviews she did with CEOs, Spelling Bee finalists, cadets at West Point and Seahawks head coach Pete Carroll, Grit is an insightful read.  The good news is unlike god-given talent, grit can be learned….and parented.