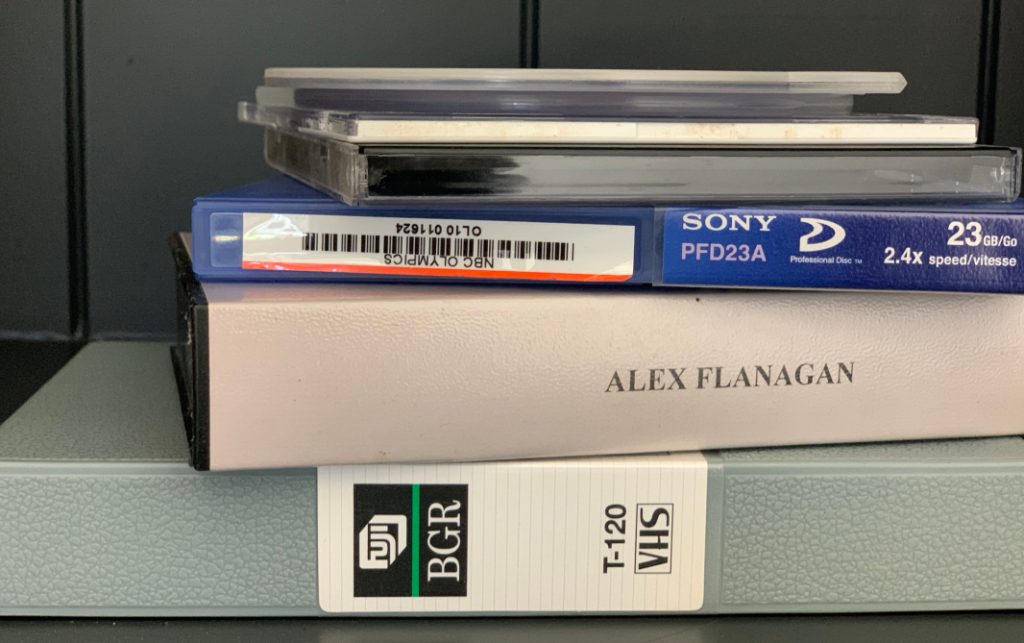 When I graduated from college in 1993, I packed up the car with resume reels and drove to news stations within an 8-hour radius delivering my tape. Back then, the biggest challenge was getting a News Director to agree to meet me so I could introduce myself and hand off the video in person.
The delivery method and format certainly have changed over the past three decades, but the basics of what makes a hire-worthy resume reel in broadcasting are still the same. A resume reel still serves as the best way to showcase a visual and audio highlight of what you have to offer as an on air talent.
I reached out to several executives in charge of hiring in the sports and news industry to get their anonymous advice and tips on what makes a great reel.
9 BASIC RESUME REEL RULES
Start with a slate
It doesn't have to be fancy. A black slate with your name and what you do (i.e. reporter, play by play) and a contact email or phone number.
Open with a shot of yourself
It seems obvious, but you'd be surprised how often people start with an anchor tossing it to them. It is tempting to make yourself look important by opening with Mike Tirico, Joe Buck, Suzy Kolber (insert famous person you've worked with) setting you up, but the goal is to give the viewer an immediate idea of who YOU are, what you sound like, and what you look like in a short amount of time.
First impressions are crucial
Put your very best stuff at the top. What makes you pop? It should be a 30 to a 60-second montage that leaves an impression followed by a few stories or more significant chunks of work. Keep your look consistent and show variety. "You have a short window to hold my attention," advises one executive.
[The Importance of Internships]
Less is more
"Skip the music underlay and graphics and focus on clips that showcase creative writing and reporting", says an executive at a major network. Your reel isn't about its production value. It is about showing your skills as a reporter, host, play-by-play, analyst, etc, and telling your story.
Something about you needs to emerge right away
What is it about you that is authentic that transcends all others? If you can do basketball, football and hockey play by play show it. If you are irreverent or witty, chose highlights that reveal those parts of yourself. If you are bilingual, put a clip of you speaking a different language close to the beginning of your reel.
Keep it moving and keep it short
The executive in charge of hiring is busy. You have a small window to hold their attention. "Four to five minutes maximum", says one executive. "Two to three minutes max", says another adding "If we want more we will ask for it." Show a variety of work that is consistent, but features you in different environments, highlighting your skills and talents.
[3 Things To Help You Get A Job In Sports Broadcasting]
Avoid choppiness
Don't just include your question or a snippet of play-by-play. Include little chunks of work that demonstrates your flow. One executive says, "A few chopped up great calls at the top is good, but I like to hear the rhythm in which the person calls the game, so a few minutes long of a certain section of the game is great to hear." Another explains that reels with too many short and choppy clips back to back don't provide enough context, "Hopefully they can include a good question that gets a thoughtful response." It's important to give potential employers an idea of how you interact. "I like to hear the subject's answer to see if you are listening. How you respond and react and follow up. How you think on your feet," says one executive who hires on-air talent.
Perception is reality
Remember how I said above do not start with someone else, just because it makes you look important. I didn't say don't use it at all. Show interactions or work in high profile situations. . If you have clips from at a Super Bowl or Final Four, include them. If you are interviewing a well-known athlete or coach, add a small clip of it to your reel.
What Goes Into Being A Sports Broadcaster
Make it easy to access
I actually do miss the old days when a reel was on a physical tape and there was one way to access it. There are a lot of different ways to deliver your reel. Vimeo, Youtube, Dropbox, etc. I like Vimeo the best. Importantly a reel needs to be easily accessible. You don't want the viewer to have to download or have to watch an ad first or enter a password. Use a link that downloads immediately and make sure it is high quality.