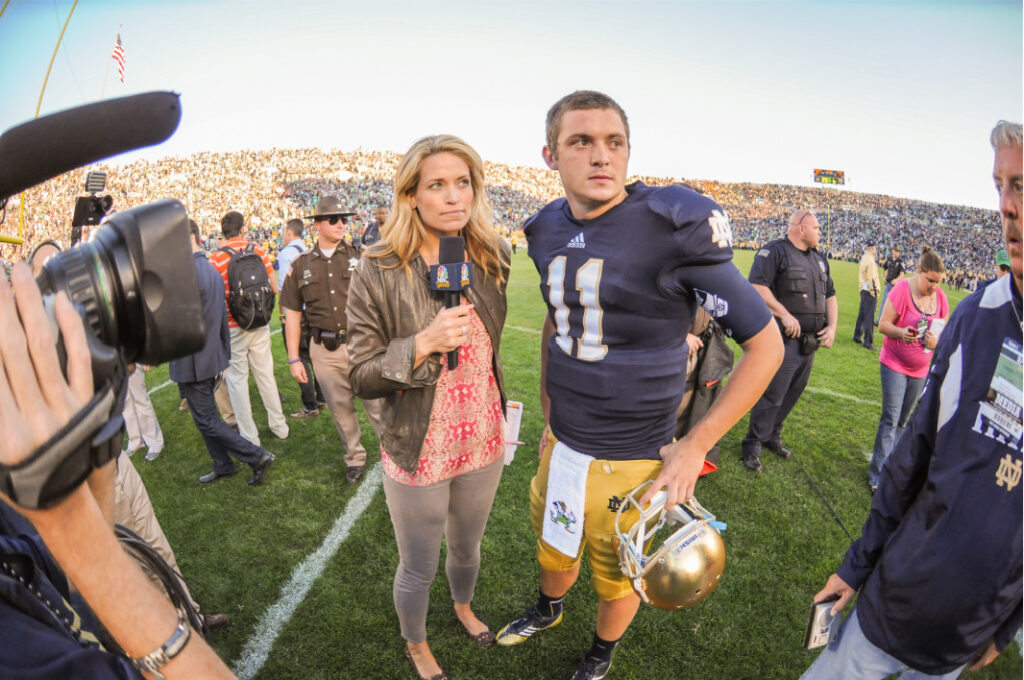 Not many people outside of the industry understand the work that goes into broadcasting a football game on TV. Each time an announcing team televises a football game, they spend the week leading up to it studying and learning like they are preparing to take the SAT.
The expectation for all of the announcers broadcasting a football game is that they know the roster, two deeps, the names and roles of the coaches and officiating crew, game storylines, player and team backstories, game strategy, statistics, tendencies, and any injury news. Even the weather forecast is on the list of need to know items before kickoff. I was part of a game in 2011 when a severe storm caused the emergency evacuation of Notre Dame stadium. NCAA rules require play is suspended if there is lightning within 8 miles of a stadium. There has to be a 30-minute delay between the last strike of lightning in range and the game's restart. That day the lightening lingered in the no-play radius for a long time, so we had a lot of airtime on NBC to fill before getting the green light to restart. In this situation, officials deemed it unsafe for the 60,000 fans to be in the seats, and moved them into nearby academic buildings on campus. It was chaotic and dumping rain.
I went to work both in the stadium and on the phone talking to both team's athletic directors as well as Notre Dame's president. I spoke to the team's sports information directors, players, coaches, and fans. I reported everything under the sun, including what exercises players were doing in the locker room to stay warm and flexible and what staff members fed them. I also provided minute by minute play by play of the Universities plans to keep everyone safe during the storm and get them back into the stadium.
The hardest thing about being a sideline reporter is that you have to be prepared for anything and everything, but typically 95% of what you prepare, you never use. The one time you need it, you better be ready.
You learn all this information in a variety of ways. One part of the preparation process is watching games and game film, either on your own or with your colleagues. John Madden's film study sessions were legendary. I got a small glimpse of them when I was part of the NBC announcing team for Super Bowl XLIII in 2009 with Madden, Al Michaels, and Andrea Kremer. NBC set up a film room for him at our hotel and the production group bonded around those study sessions. Seeing the game through the eyes of someone like Madden, who truly understands what they are watching, is invaluable.
The analyst typically watches the most film, and back in the Madden days, it was much harder to get your hands on game tape. Technology advances have made it way more accessible. A good football analyst can predict a play, not just because they know football, but because they've done the homework of breaking down a game, play by play by play. That includes evaluating the player's and coach's techniques and tendencies, studying schemes, alignments, and formations, and understanding a team's concepts and coverages.
The whole announcing crew needs to know the rules, but the bulk of explaining them falls on the play by play person. He or she needs to articulate to the viewer things like how forward movement of the hand is defined as it pertains to deciphering a forward pass from a fumble, the proper procedures for a free kick or what constitutes an illegal action to save time after the two-minute warning. The NFL rule book is complex, knowing it is one thing, being able to simplify and make sense of it to viewers at home is an enviable skill. Flowing between the NCAA rulebook as a college announcer and the NFL's as a pro football announcer is even more difficult.
The Sideline reporter's job is to be the eyes and ears on the football field. When I spot Taylor Swift or Vince Vaughn on the sideline, I find one of the camera operators and alert my producer to show them to you on TV. When the backup quarterback starts warming up, I tell the director and producer to prepare for a personnel change. When someone gets carted off the field, it's on me to know the location of the ambulance and Xray machines, Which hospital a player will go to in case it is a medical emergency and then start working sources in and outside of the stadium to figure out the extent of an injury. There have been times when I've known a young man had endured a devastating injury but waited to report it because I knew his parents or wife didn't know yet, and other times when I reported what I learned immediately, and it spread like wildfire as it did during the Browns and Bills Thursday night game in 2013. I started my second ½ report sharing that Browns head coach Rob Chudzinski had just told me a few minutes before I came on camera that he feared quarterback Brian Hoyer torn knee ligaments in the first ½ of the game. He had.
Research and reading is also a huge part of game prep. I would read hundreds of clippings each week sent to me by the team's media department. A feature story packet alone might include 100 pages of articles from local and national media outlets about players' and coaches' families, hobbies, and health. Even though you are a National reporter, meaning you cover all of the teams, you are supposed to have the same intimate level of knowledge as a beat reporter, a person who reports on the same team every week.
As a sideline reporter, all of that work gets boiled down into less than 10 minutes of time on television in a 180 minute hour broadcast, which leaves little room for error. As I see it all written down on paper now, it makes me realize the odds of getting a perfect score on the SAT are much higher than executing a flawless broadcast.