Sports broadcasting is incredibly competitive and isn't as high paying as people think, especially for those starting out at the bottom. Like other highly sought-after occupations, it will take determination, resilience, and grit. Unlike many professions, in the field of broadcasting, there isn't an exact road map for how to get where you want to go. Here are three pieces of advice for anyone wishing to work in sports broadcasting.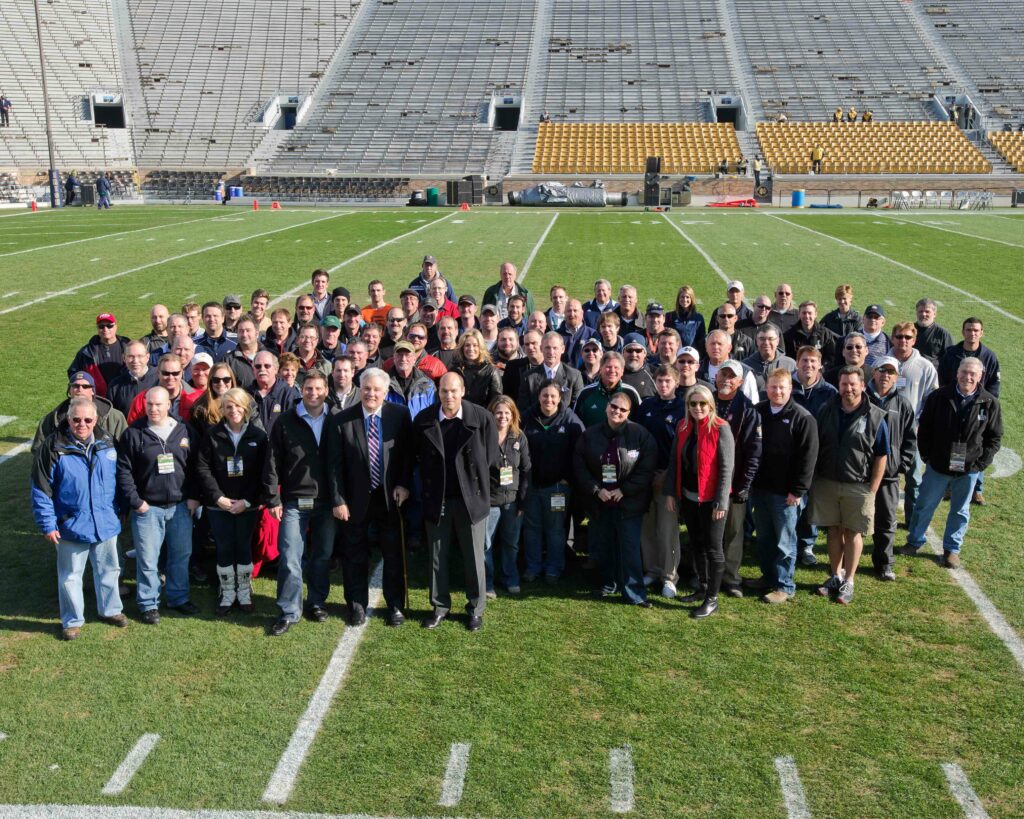 GET AS MUCH PRACTICAL EXPERIENCE AS YOU CAN. The best way I know to do this is through internships. (I'll talk about how to get an internship in an upcoming post). Many jobs in television are less about your education and more about who you know. That doesn't mean you can stop attending classes, though. You also want a degree, and much of the practical experience that will help you land a sports TV job can be found on your college campus.
The job description included everything from holding my water bottle, rain gear, and a backpack with my makeup to helping me edit and develop my sideline story pitches and half-time and post-game interview questions. Some of the students were so smart and worked so hard that I came to rely on their feedback. Others I only trusted to hold my stuff. The very first student fit the first description. He was willing to do any job, whether big or small. He helped our production manager with snack pick-up duties at Costco, drove people to and from the airport, and he even picked up on the broadcast crew's caffeine addictions and often got us all coffee without being asked! After a few years, NBC hired him. He now works in the production truck during Notre Dame broadcasts and a number of other NBC sporting events, doing graphics.
BE OPEN TO LOOKING AT ALL POSITIONS, NOT JUST THE ONES THAT WILL GET YOUR FACE ON TV. There are a lot of cool things you can do behind the camera. Many of those jobs wield more power and pay more money too. I'm always surprised by how many young women tell me they want to be on TV but can't tell me why. I suggest you think about what you are good at and what you enjoy. I love reporting and writing. I'm an information-aholic who enjoys learning about people, hearing their stories, and asking them questions. My colleague Mike Mayock is passionate about studying the game of football and a player's technique, making him a good analyst. Someone with a good eye, who likes to be up close to the action and has a knack for technology, might be a good camera operator. If you know the game inside and out and are a quick thinker who can tell a story with pictures, like my friend Artie Kempner of FOX Sports, you might make for a great director. Internships are an excellent way to expose yourself to various positions and will help you decide what job suits you best.
SET YOUR EXPECTATIONS. I think the most challenging thing for many people wanting to do my job is the realization that very few start out working the sidelines for NBC or ESPN. It can be a long road to get there and if you are not willing to move and make a modest living, at least in the beginning, you should look at other jobs. My first job was in Alexandria, Minnesota, working 60-plus hours a week, making just $15,000 a year. It is NOT as glamorous as it looks! Games are often played on weekends, which is when you will be working. Prepare to miss your friends' weddings, baby showers, and birthdays. Sometimes it sucks! I remember feeling sorry for myself when my 40th birthday and 15th wedding anniversary fell on a Notre Dame game weekend. I rang in the big 4-0, reporting on how the Irish creamed Michigan under the lights. On the flip side, for some people, that might have been the birthday present of a lifetime.