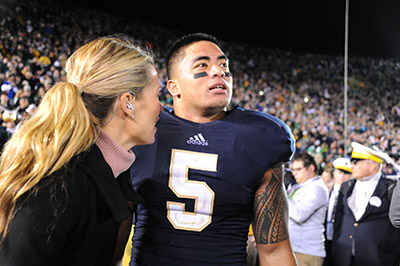 My life coach sister has an exercise she does with me whenever I call her to complain. I'll say something like, "I don't think Kevin (my husband) appreciates how much time I spend keeping the house clean ", or "People don't understand the toll traveling takes on me. and she'll say "Well, do you know that to be true?" I almost always have to answer, "No". Because when I really think about it I don't know what someone else is feeling or thinking. So when news broke that the story of Notre Dame Linebacker Manti Te'o had either been the victim of or the perpetrator of an elaborate hoax I found myself doing this exercise.
As the Notre Dame sideline reporter for NBC I have reported on Manti Te'o since his freshman season in 2009. I jumped on his bandwagon early after Charlie Weis told me his linebacker, who he said had the physical attributes of a senior, was the real deal. By the time he was a senior I had gotten to know the Te'o family well enough that I was with his parents on Senior day as they cried at their eldest child being introduced during his final home game.
Even before this whole hoax thing happened, I was asked about Manti all the time. "Oh yeah," I 'd reply quickly "He's DEFINITELY the real deal. He has this amazing soulfulness about him and an incredible leadership quality."
Now all of the sudden I wasn't so sure. Was he the real deal? It wouldn't be the first time I had gone around gushing about some athlete and his amazing story only to learn he had forgotten to tell me that he had beaten up his girlfriend or was fueling his "god given" talent with something illegal.
So what did I know to be true about Manti?
He's 21 years old. He's Mormon. In September I was in a stadium surrounded by people wearing lei's in support of Manti. Manti told me he returned for his Senior year foregoing the NFL because despite the fact that his family could use the financial help no amount of money could replace the experience and memories he would have in South Bend. Manti was always kind to me.
Brian and Otila, Manti's parents, came to South Bend for the BYU game and told me it was the most important game of the season, because beating BYU would prove to their peers and relatives that Manti had made the right decision in attending Notre Dame, over the Mormon University.
Seeing Manti with his youngest sibling, 6 year-old Manasseh, always made me smile because it reminded me of my 5 year old, and his adoration for his older siblings.
Manti Te'o said he had a girlfriend and that she had died. He didn't say much about her to me. In fact, I didn't even know he had a girl friend until I learned she had passed away. But I felt sad for him and I didn't want to pry. I thought it would be insensitive, given the circumstances, to dig any deeper and demand more than what he was willing to share.
Why he didn't share more or simply clarify the story early on became clearer to me after I saw his interview with Katie Couric this past week. In that interview I heard the one thing I needed to hear to believe Manti… he had lied to his dad. That was the conclusion I had come to when the story first broke and the only one that made sense to me. Hard as it is to believe, one of college football's biggest stars was having an online relationship with a girl he'd never met. He didn't think his protective and deeply religious parents would approve. So he lied to them. It snowballed. He was scared to tell the truth. Embarrassed. Worried. Naive. Too inexperienced to know that buying into your own hype can result in the severe side effect of feeling invincible. There he was not knowing that the same group of press people singing his praises in publications and on TV would pounce on him faster than a lion on its prey.
From the get go, my gut said the person and the family I knew the last 4 years were not capable of concocting an elaborate lie to gain publicity. Manti was already admired at Notre Dame before anyone knew about the supposed death of his girlfriend. At the start of the season Quarterback Everett Golson had pointed out to me how influenced he was by Manti, "I always take something valuable from our interactions", he told me.
Freshman cornerback KeiVarae Russell texted Manti early on in the season. Aware that as a freshman he could be the weak link on the defense ,he assured his senior mentor, he was going to work hard. In turn, Manti encouraged him to be himself and told him he knew where to find him if he needed his help.
Notre Dame's athletic director told me he broke tradition by putting a C on the captains jersey's in 2012, in part, because he wanted to do something special to honor Manti. I've met bad, crooked, unethical athletes who will do anything for personal gain. This didn't feel like one of those guys and clearly I wasn't the only one who felt that way.
After all, If the Te'o family was so desperate for fame and money, why did Manti forego the NFL? If the spotlight was all they wanted why had they circled the BYU game on their calendar? Surely being at the Michigan or USC would have been a better place to be seen.
At the same time, there were things that didn't add up. When I probed people inside the football program for information after news broke that Manti's girlfriend had died they downplayed Manti's relationship. I took it to mean it hadn't been serious, that it was more of a friendship. In my on-field interview with Manti after the Michigan game, the day his now non-existent girlfriend was buried, he showed little emotion on the subject ending our interview by giving his mom and dad a gleeful on-camera shout out. I chalked it up to my inability to get him to connect in the moment. Then ESPN's College Game Day ran their story on Te'o overcoming the tragic deaths of his girlfriend and Grandmother. From then on the ball was rolling too fast to stop. So Manti didn't even try….And maybe even helped speed it up.
The Manti I know seems to have a burning desire to do good and inspire. Ironically, it backfired on him. I wonder if at 21 years of age if he didn't realize the enormity of the spotlight he was standing in. Or how many people who championed and vowed for his authenticity and character might feel let down if they found out about his lies, even though some of them seemed understandable. While he seemed to have basked in the climb, I don't think he understood how fast and hard he could fall. That he could go from hero to zero in 30 seconds. But then again, at the end of the day I don't know how he feels…. Only he does.