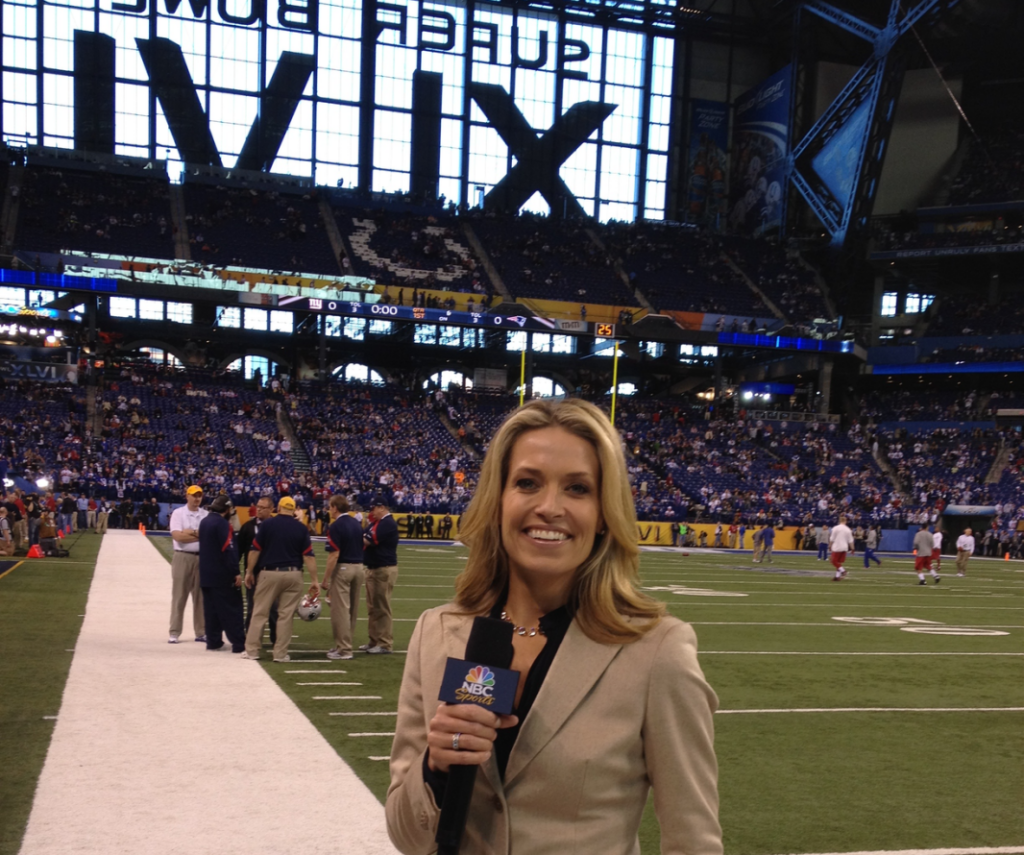 Columnist and TV host Jason Whitlock's misogynistic comments regarding ESPN's Maria Taylor and Katie Nolan made me hot in the face. Not only because of the abusive, cruel, and divisive nature of his words but because it reminded me of the time I was the target of Whitlock's sexist schtick.
It has been more than nine years since I found myself in the center of Jason Whitlock's perpetual "attractive women only have a job based on their looks" narrative.
Whitlock's mean-spirited attempt to discredit my reporting skills based on my physical appearance began during the peak of my career on January 8, 2011.
I had finished covering the sidelines of the NFC Wild Card game between the Seattle Seahawks and the New Orleans Saints for NBC. The game had been particularly chaotic as it included one of the most epic plays in NFL postseason history. In the fourth quarter, Seahawks running back Marshawn Lynch broke off a 67-yard touchdown run famously dubbed "Beast Quake" because the reaction in the stadium to the Touchdown was so loud it set off a local seismometer. Seattle won, but the game came down to the wire, and in the end, there was confusion in our television production truck about whether we would have enough time for a postgame interview before signing off and sending it back to NBC headquarters in New York.
The producer that day was Rob Hyland. He was in the chair for his first NFL game. With two wildcard games on the same weekend, NBC pulled in the Notre Dame broadcast crew, which Rob and I were a part of along with Tom Hammond and Mike Mayock, to cover it's Saturday Wild Card game. Mike and I reported on the NFL regularly since we both also worked for the NFL network. By now, I had been a sideline reporter for a decade.
The obvious on-field interview at the end of the game would have been with Marshawn Lynch, but I knew Lynch would refuse any postgame interview. He did not do them. Anyone who covered the NFL knew so. I went after the second-best option, Seahawks head coach Pete Carroll. NBC Sports Chairman Dick Ebersol was in the control room at 30 Rockefeller Plaza in New York City. Ebersol directed Rob and everyone else inside the TV truck in Seattle to get an interview quickly so we could get off the air on time and avoid stepping on any of NBC's programming. As soon as the game ended, I took off after Carroll and grabbed at his elbows and arms, trying to get his attention as he bounced around the field, hugging and congratulating one person after another. I practically had to tackle the head coach, and when I finally got his attention and asked him a few questions on live TV, I couldn't hear a thing he said. During my entire interview Rob, balancing the clock and communications with New York, was screaming into my ear about timing and traffic. I still got through the interview without the audience knowing all hell was breaking loose in my ear, and we tossed back to New York on time.
.
I never, ever leave a game feeling like there aren't a million things I could've done better. But I felt decent about that day's work. I would hear from Rob soon enough with his feedback on how I could improve, and I'd give him my suggestions on how he could do better as a producer by not talking in my ear so intensely during an interview, but for now, It was time to head home.
I had just cleared TSA at Seattle-Tacoma International Airport when my Twitter notifications lit up my phone. Something was spreading on social media that had to do with me. I clicked open the notification with one hand, as I pulled my suitcase with the other and saw these two tweets by Jason Whitlock, who worked for Fox Sports at the time:
"Alex Flanagan has no clue what she just watched. NBC knows that. They pay a producer to explain to her. Producer should be fired. Period"
"Fire Alex Flanagan's sideline producer. Sideline Barbie didn't ask Hasselbeck or Carroll about the whole team going downfield to block on "Hit & Run"
Not only have I NEVER had a producer feed me a question, most of my career, I didn't have a sideline producer. In this circumstance, the producer was talking into my ear but not about the interview, which required some next-level multitasking on my part.
I looked at my phone in disbelief. I had been on the road for over a week. I had spent the previous Sunday in Chicago Reporting for Football Night in America and then flew to Los Angeles to host the NFL Network's flagship show Total Access on Monday and Tuesday. On Wednesday, I traveled to Seattle to attend team practices and production meetings and prepare for Saturday's wildcard game. It had been a long week marked with a big finish line for me—the end of my NBC football season. I had worked my butt off.
Standing in the airport now, I wondered if this Twitter bully had any insight into how much time I spent preparing for my sideline job. He didn't know I painstakingly thought through how I worded every question I asked. How degrading it seemed to work hard while balancing the excruciating guilt I felt spending time away from my three-year-old son and five and seven-year-old daughters, only to be publicly compared to a plastic doll.
I knew Jason Whitlock's name but didn't know much about his persona then. I fired back something I hoped sounded serious and witty.
@whitlockJason no problem if u don't care 4 my ? But know I'm not ever fed them. Is it bc I'm a girl, u assume they come from my male counterpart?
P.s is the barbie comment a compliment? Because as my age, you take it as one.
Twitter responded, and people started sharing and weighing in with their thoughts. Whitlock got more cavalier.
U r attractive for any age and I like that u r a "real" and not offended by the Sideline Barbie comment.
I was fuming. But what could I do? A few people texted me. "Don't let that guy get under your skin," and "what a jerk!" No one publicly got my back. That was it.
Until the next year, he did it again.
No sooner had I finished the Wild Card game between the Cincinnati Bengals and the Houston Texans that Jason Whitlock tweeted this:
Talk to me about why someone at NBC/NFL Network won't help Alex Flanagan with postgame questions. I blame her producers. She needs help. Job is to look good.
By now, I knew exactly who Whitlock was. He had no clue what the job of a Network sideline reporter entailed, nor was he curious enough to learn. Instead of indulging him with the social media fight he seemed to be seeking, I invited Whitlock to come on the sidelines with me for a game so he could suggest questions. I also asked him to have a cup of coffee with me so he might get to know me face-to-face, before ripping me in public forums. He never responded.
I've been at numerous events over the years, Superbowls, and in press boxes with Jason Whitlock, and he's never once talked to me or introduced himself. Yet he continues to hurl personal put-downs about respected women he doesn't know and perpetuates outdated stereotypes implying women are inferior to men because that is what Jason Whitlock has built an entire career around. The only thing he proved in this latest anti-female tirade is that if he had the courage to know me or any of the women he so willingly devalues, it would kill his dangerous spoon-fed barbie narrative, and then what would he do for attention?