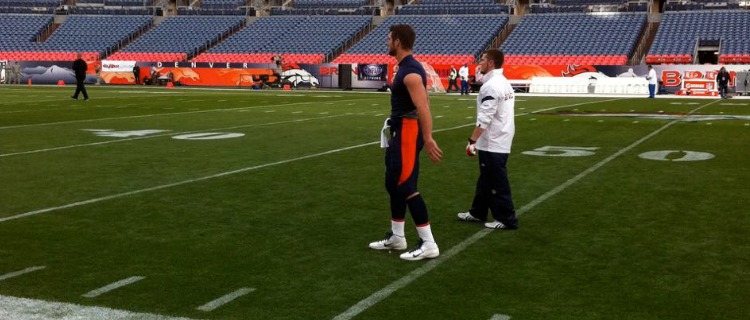 (First published June 11, 2013)
Oh, Tom Brady is going to be so cranky. I know this because about a year and half ago he could barely hide his irritation with me when I asked him two Tim Tebow questions after the Patriots beat Denver in December of 2011. New England clinched the AFC East with that win and Tom Brady was awesome, yet all anyone could talk about was Tim Tebow. That game came on the heels of a series of improbable come from behind wins for the Broncos and Tebow mania was in full effect.
Since then, Tebow has been traded to the Jets and cut by them. An experiment gone so terribly awry that when it was over no one wanted anything to do with the former first round draft pick. Until today, when the one team we all thought would NEVER touch Tebow signed him to a 2-year deal. Maybe with Gronk temporarily out of the picture the Pats felt the need to spice things up. Or maybe Bill Belichick decided to go for Rex Ryan's jugular. Belichick's press conference made it clear we might never know the rational behind the signing, but if eighteen Tim Tebow questions made Belichick disagreeable today…just wait.
So maybe I've been reading too much "O" magazine and listening to too many Brene Brown like TED talks this off-season, but Tim Tebow dominating the headlines got me thinking on sort of a deeper level. What is it about Tim Tebow that we can't stop talking about him? Is it because the standards he lives by make us feel badly about ourselves? Have we been burned and betrayed so many times by our sports heroes that we can't possibly believe someone might just actually be a decent human being? Is it because we live in a society where our fear of offending anyone keeps us from standing up for anything?
I was about ten feet away from Tebow 18 months ago when he was praying with his eyes closed as Matt Prater kicked the game winning field goal in overtime to beat the Bears. I was standing there so I could interview him as soon as the game ended for my Football Night in America postgame report. I too, was a little surprised when I looked over to make sure he was still in my reach, and saw him down on one knee with his head bowed with the game on the line. I learned later he wasn't asking God to make the ball go thru the uprights so he could win, but he was praying to a higher power to give him strength to deal with the outcome of the game win or lose.
I'm 15 years older than Tim Tebow and I'm just now realizing that the key to a happy life is being grounded in gratitude and believing in something bigger than you. Anything. Last year while researching ideas for a Today Show story I was working on, I learned that Tebow brings a child with a life threatening illness to every game. It's a collaboration he does with the Dreams Come True organization. Ironically, it was in New England this past October that I met CJ Singletary and his family on the field. They were at Gillette stadium courtesy of then Jets quarterback Tim Tebow. A sick teenager with a dream of meeting his idol. Can you imagine having the power to make someone happy just by meeting him or her? That's cool and Tim Tebow gets it. And God love him for that.