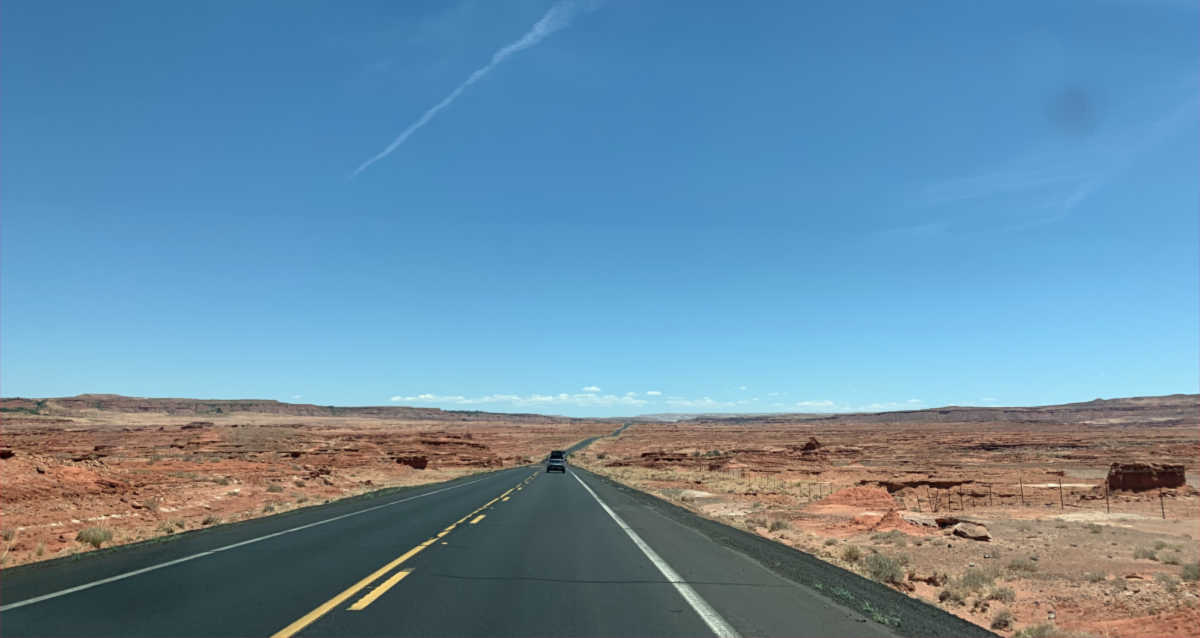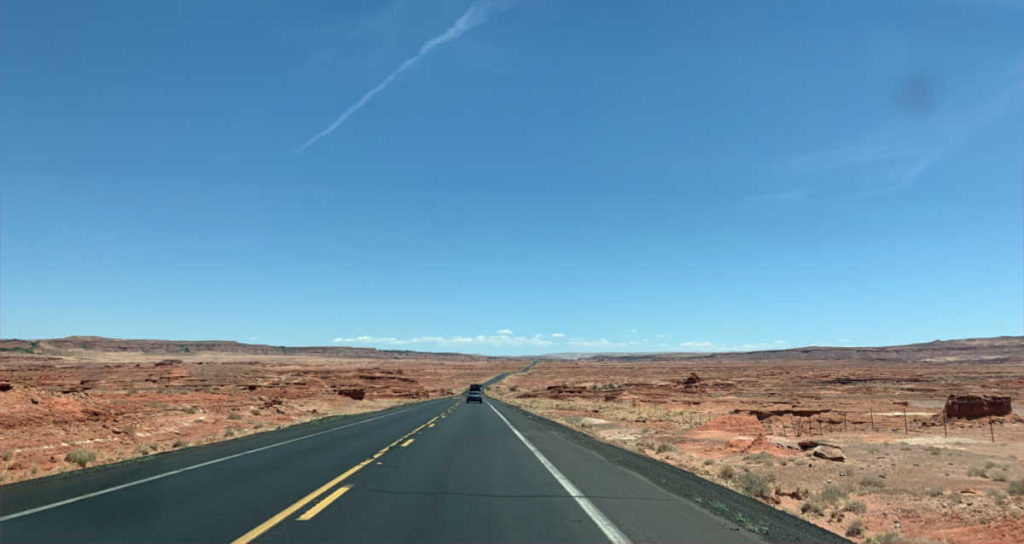 I couldn't believe how much beauty and adventure we found this summer driving through the Western United States. My family of five and another family with kids the same age hit the road for an epic road trip through Arizona, Colorado, Utah, and Nevada. The ten of us traveled about 2,200 miles in 10 days and had one of our best vacations ever. The kids are ages 12-16, which I think is the perfect age for this type of trip. It was an ambitious road trip. We packed a lot in!  You could slow it down, break some of it up and make it a two-week trip.
TRANSPORTATION: We rented a Suburban from Hertz. The kids were able to spread out, and we had plenty of room for luggage. A lot of the roads are challenging because they are windy, two-lane, etc. so I wouldn't want anything bigger than a suburban (i.e., sprinter van, RV, etc.) but with three kids, nothing smaller either.
San Diego, CA to Sedona, AZ
Day One – (drive = 7 ½ hours, 462 miles via Interstate 8 and 17)
The transition in landscape from Phoenix to Sedona is stunning, and so is the setting at the L'Auberge de Sedona. The hotel is pricey but worth it. Get a cottage with an outdoor shower, but enjoy the 5-star accommodations before heading off to Colorado for three days of glamping.
Sedona, AZ to Sombrilla Springs, CO (outside Pagosa Springs, CO)
Day Two –  (drive = 7hr. 15 minutes, 415 miles)
The first of three nights of glamping. Much of the drive takes you through Najavo Nation, which is gorgeous. I bought a map at one of the local gas stations and read to the kids about history. COVID has hit the Navajo nation hard, so be mindful when you stop wearing a mask, wash your hands, etc. Stop for late Lunch at Burger Boy Drive-in Cortez, CO. It is an old fashion car-hop, like an OG Sonic burger, but better. Stay in the car if you like or sit outside. I highly recommend the burgers, shake, onion rings, grilled cheese, and sweet potato fries. You have 2 hours left in the drive from Cortez to Blanco Basin road. We arrived at Sombrilla Springs in the evening, just in time for wine and cheese in the Barn.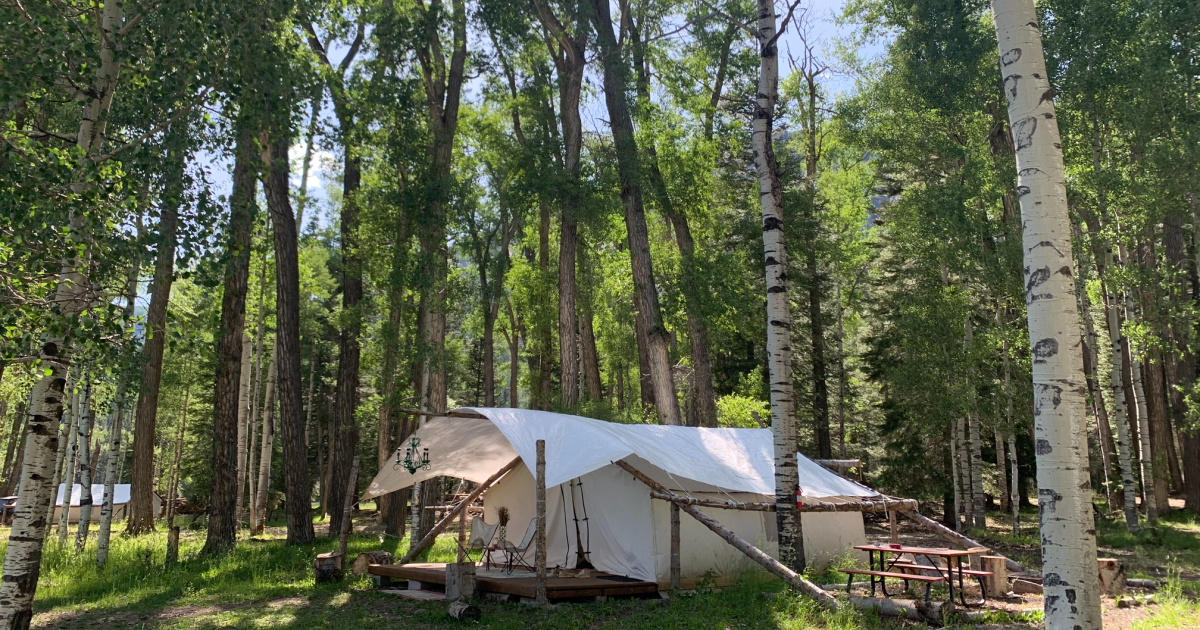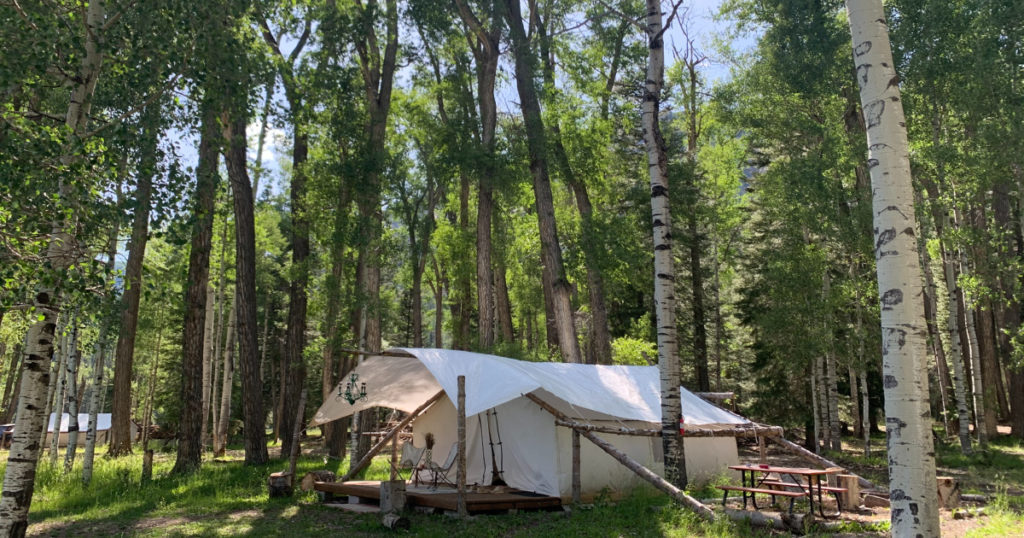 Sombrilla Springs, CO
Day Three –
Sombrilla Springs. Enjoy the beauty of the ranch. Start the day sitting on the deck of your tent, drinking coffee overlooking the valley. We packed snacks and lunch and drove down the Blanco basin road about 6 miles to the Opal Lake trailhead. It is a moderate 3-mile round trip hike in the San Juan national forest. After hiking, back at Sombirlla springs, we take turns Horseback riding in groups of four. It is a neat way to see parts of the basin you don't get to see on foot or in the car. Rinse off the dust in your outdoor shower and get dressed for a night of barn dancing. Sombrilla Springs arranged for us a catered dinner complete with local musicians and smores around the campfire.
Day Four – 
Sombrilla Springs. ATV in the morning on the ranch. Around 11 am head into town for white water tubing through downtown Pagosa Springs. The kids all LOVED floating the river. (Even though the water levels were low and the rapids small, I was still scared to death.) It is easy to flip. Warm-up in the hot springs after your float. Buy a general admission day pass to all mineral hot-spring pools at The Springs and shower afterward in the locker room to clean up for an upscale gourmet dinner at Pagosa Springs's most excellent restaurant, The Alley House Grille.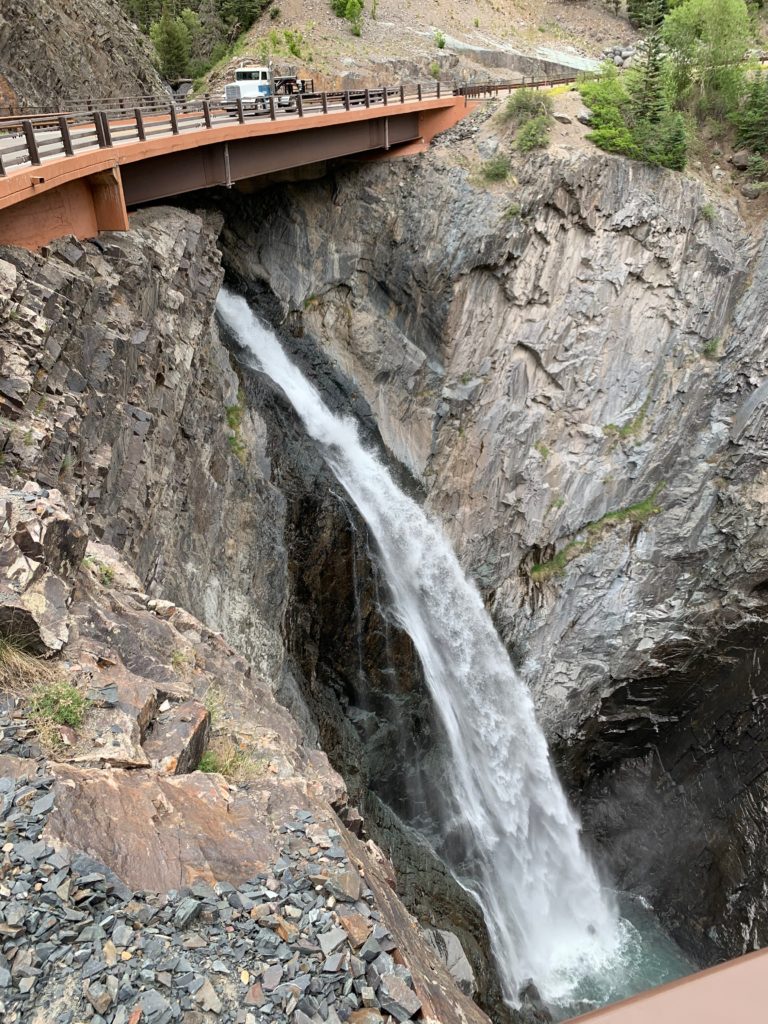 Sombrilla Springs to Telluride, CO via the Million Dollar Highway
Day Five – (drive = 5 hours, 204 miles via the US-550)
Up early for a 7 am departure. Stop at The Pagosa Baking Company for coffee and breakfast on the fly. Make sure you take the US-550 once you pass through Durango, CA. Make a sightseeing pitstop along the way in Ouray. Lunch at the Ouray Meat & Cheese Market on Main street for a roast beef or turkey sandwich and cheese curds to go. Pick up cheese and jerky snacks for later in the evening. Quickly stroll the streets to get a taste of this town. Peek in the Blue Pear and Columbine Gifts and Silver for souvenirs and some cool Native American made jewelry. Rockin P Ranch for a ton of unique items. MAKE SURE you stop at bear creek falls. It is one of the most spectacular sites of our whole trip. Head south on US 550 on your way to Telluride for about 3 miles until you get to the bridge and pull into the parking area. You won't see the falls until you step out onto the overhang and look back.
It will take your breath away! Back in the car onto Telluride. On the drive, you pass Double RL Ranch, the 17,000-acre ranch owned by Ralph Lauren. Look for the wooden fence that stretches about 30 miles long and the handpainted tepees on the property. Check into the Fairmont Franz Klammer Lodge in Mountain Villiage. We booked a three-bedroom with a washer and dryer. After three days of glamping, it was essential. Tuck in, do laundry, and pick up take out from Brown Dog Pizza.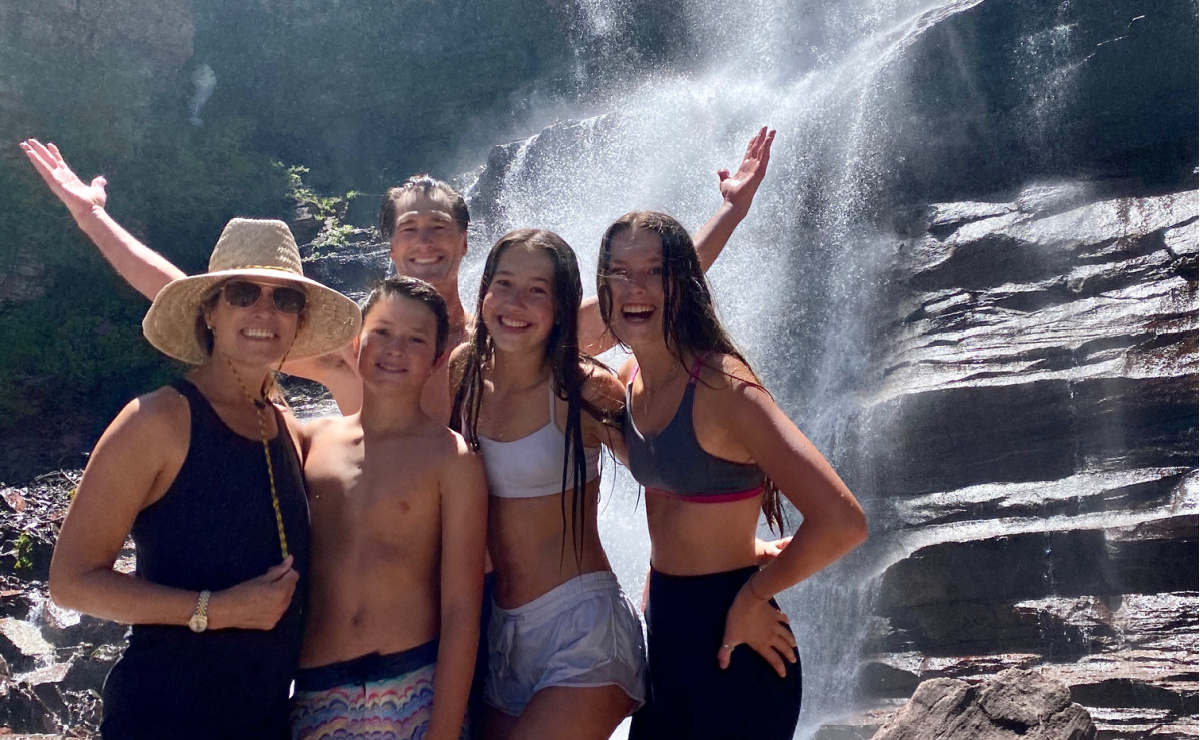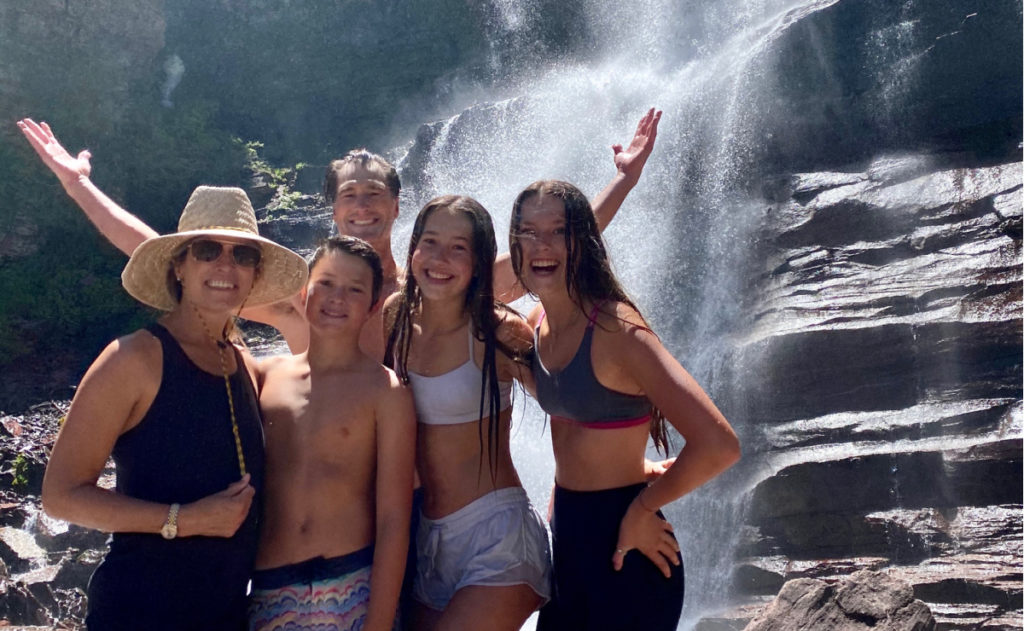 Telluride, CO 
Day Six –
Hiking, Shopping, eating in Telluride. Morning hike on the Bear Creek preserve trail. The waterfall at the turn around point is breathtaking.  A The Butcher and the Baker might be one of my favorite lunch spots of all time. Pick up hats and accessories at Crossbow leather, Beautifully curated clothing, denim, and jewelry at Two Skirts and Scarpe and pillows and home décor at Tweed Interiors. Let the kids feed themselves at Shake N Dog Grub Shack in the village and take the gondola down to town for an adult dinner at There. This small eclectic restaurant is a little off the beaten path. They serve food tapas style and creative drinks for a socially shared entertainment experience.
Day Seven –
Hit the market at mountain village for groceries. (stock up for day 8 also) rent Stand up paddle boards at BootDoctors. Pack a lunch and drive to Alta Lake. After a day on the water, spend the evening sitting outside on the patio for a relaxed Italian dinner at La Pizzaria.
Telluride, CO to Zion National Park| Springdale, UT (with a stop in between at Lake Powell)
Day Eight – (Drive = 5 hours to Wahweap Marina on Lake Powell in Page, AZ, 295 miles + Wahweap to Springdale, Utah 2 hours, 113 miles)
Early morning  6 am departure! Drive to Zion National Park with a stop at Lake Powell in between. Pack snacks and sandwiches the night before. It is an ambitious day. We decided it was either going to be great or a disaster. It turned out to be phenomenal, and one of our favorite days. Rent a boat on Lake Powell. (you need someone who knows how to drive a boat.) You have to hustle to Lake Powell because you want it to be light still so you can see the beauty of the drive. (There is a change in time zones, so you gain an hour going to Utah, which helps) Get off the lake by 5 pm and head to Mt. Zion. The drive through the Zion-Mt. Carmel Highway and Tunnel before you get to the town of Springdale is incredible. Stay in the darling little town of Springdale at the Cable Mountain Lodge. Book the Grand residence or Canyon Loft residence.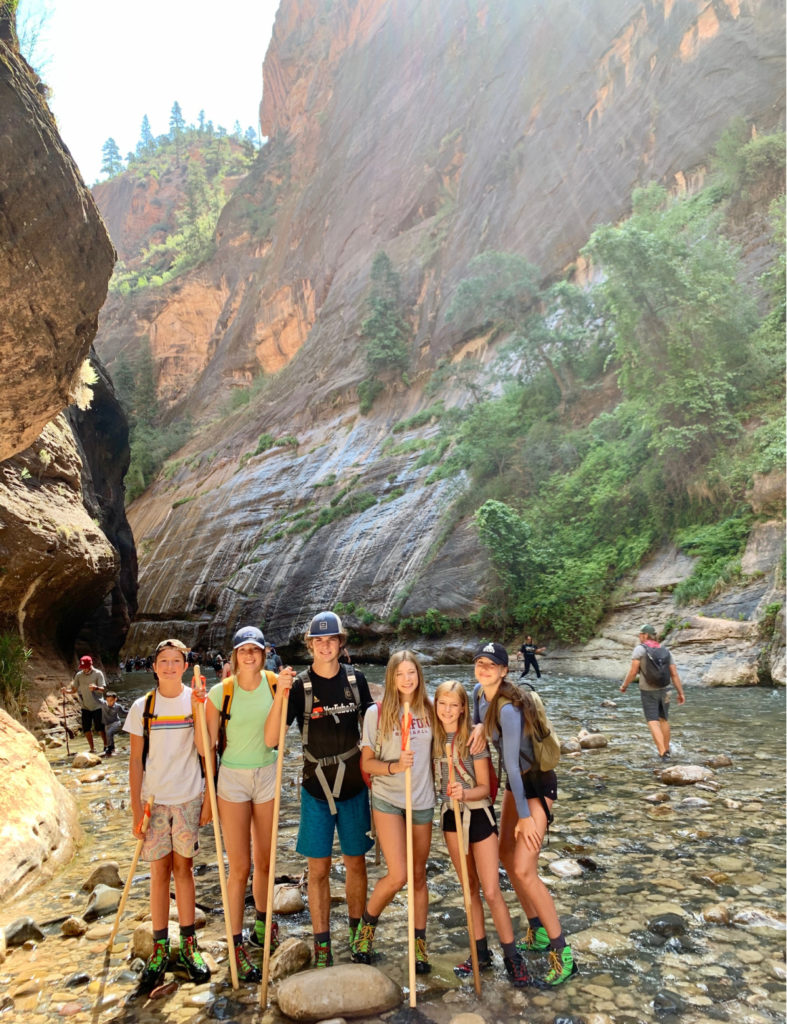 Springdale, UT to Las Vegas, NV
Day Nine – (Drive = 2 hours, 45 minutes to Las Vegas, 163 miles)
Hike the Narrows in the morning, then drive to Las Vegas. Zion is one of the most popular places to visit in Utah. Hire a private guide, ours was Chris, through Zion Guru. They outfit you with shoes, poles and waterproof backpacks. You need to bring lots of water (at least a hydro flask full for each person, snacks and you need to bring your lunch. It is about a 6-hour hike. Come back into town for ice cream at The Springdale Candy Company. On our way out of town, we drove by Helicopter. We didn't do it, but if we had stayed a second day, it seems like it would be an incredible way to see Zion in a whole different way than the Narrows hike. It would have been neat to see if from above and put it all into context. We took off that night and headed to Vegas! Our group's two youngest kids had never been to Las Vegas. Stay at the Bellagio hotel. Drive the strand before you check-in for a quick sightseeing tour. Have a late sushi dinner at 8:30 pm at Yellowtail.
Las Vegas, NV to San Diego, CA
Day 10 – ( Drive = 4 hours, 45 minutes, 327 miles)
Sleep in late. Enjoy breakfast in the hotel. Pack up. Stop at Dutch Bros coffee for one of their awesome creations for the drive back to San Diego.
What To Pack –
Pillows and blankets for the car ride and glamping
Headphones, and multiple chargers for the electronics
Download lots of movies and books on audible before you leave
Maps. I love having a physical map, not only to see and show everyone where we are, but cell service is limited much of the drive, so it was nice to have more than just my iPhone to navigate directions.
A cooler. Pack lots of snacks and drinks.
Layers for the variety of climates. Puffer jacket and Patagonia style pullovers for night time glamping (Nights can be chilly in Colorado)
A cute outfit or two for Telluride (romper, jumpsuit, or jeans and a blouse)
Warm weather clothing for Zion and Vegas. (I got a lot of use out of my  lulu lemon shorts and athletic tops)
Hydro flasks for everyone
Hats
Sunscreen
Tennis shoes
Backpacks (essential for the hikes, etc.)