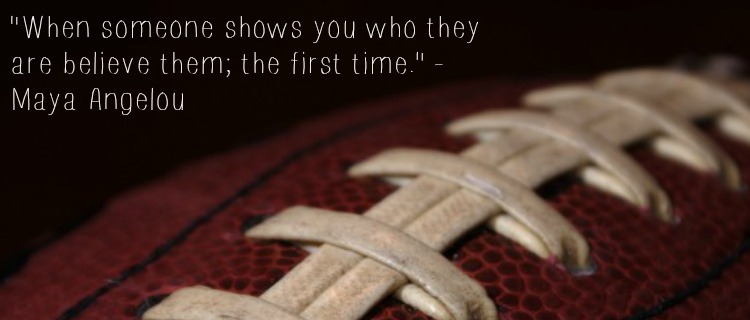 The late poet Maya Angelou has a famous quote that would help NFL Teams if they would only listen. "When someone shows you who they are believe them; the first time." It's human nature to think we can change people. Our spouses. Our parents. Our friends. Even our favorite football players. But ask any life coach or psychologist, don't worry, I've already done it for you; they will tell you that unless someone wants to change themselves, they aren't going to become a different person.
One of the hardest challenges for NFL organizations during the draft is correctly evaluating if a player with red flags is worth the risk. Former Patriots tight end Aaron Hernandez is an extreme example of how someone's devious side can explode when money and fame are added to the equation. I'm sure few people imagined Hernandez would be found guilty of first degree murder, but many knew he had the potential for problems. Positive drug tests in college caused Hernandez to fall to the fourth round in the 2010 draft, when he had first-round talent. In April, Ohio State head coach Urban Meyer, who coached Hernandez at Florida, said on The Dan Patrick Show that he knew enough about Hernandez to warn Patriots head coach Bill Belichick "to keep an eye on him."
There is a difference between giving someone a second chance and thinking you can change them. That seemed to be one of the burning questions in the 2015 draft. Which category does Jameis Winston fall under? Is he a young man who didn't know how to handle the attention showered on him at Florida State and has learned from his mistakes or does he believe women are objects and that he's above authority?
Jim Mora was the head coach of the Indianapolis Colts in 1998 when Peyton Manning and Ryan Leaf were in the same position as Jameis Winston and Marcus Mariota. Ryan Leaf's physical attributes were impressive; he had a cannon for an arm and tons of pre-draft hype. He also had a reputation of having an edge. On the other hand, some scouts questioned if Peyton Manning could make all the throws Leaf could and wondered if he was athletic enough. I asked Mora, to re-tell a story he shared with me many years ago about one of the reasons he chose Manning over Leaf.
Mora says he evaluated the two quarterbacks more than any other two players in his 40 year coaching career. This was one of the deciding factors. During the process he asked each quarterback the same question when he visited with them in the lead-up to the draft. "What will you do first if we make you the number one overall pick?" Mora recalls Leaf's answer, "He basically told us he was going to take his girlfriend to Vegas and have a good time and party it up and celebrate. And then he was going to Hawaii."
Manning answered the question this way, says Mora, "He was all into 'I want to learn the offense as soon as I can. I'd like to have a coach come down to Tennessee to show me what the offense is all about, maybe show me a playbook and film.' It was all about getting better."
We all know how it turned out. Ryan Leaf did go to Vegas after the draft and then eventually to jail. Manning to three Super Bowls.
Hindsight is 20/20, but the key to who Manning and Leaf were and maybe who they would become was right there in the answer to that single question.  Luckily, for the Indianapolis Colts and Jim Mora, he was willing to see it.
Updated May 16, 2015