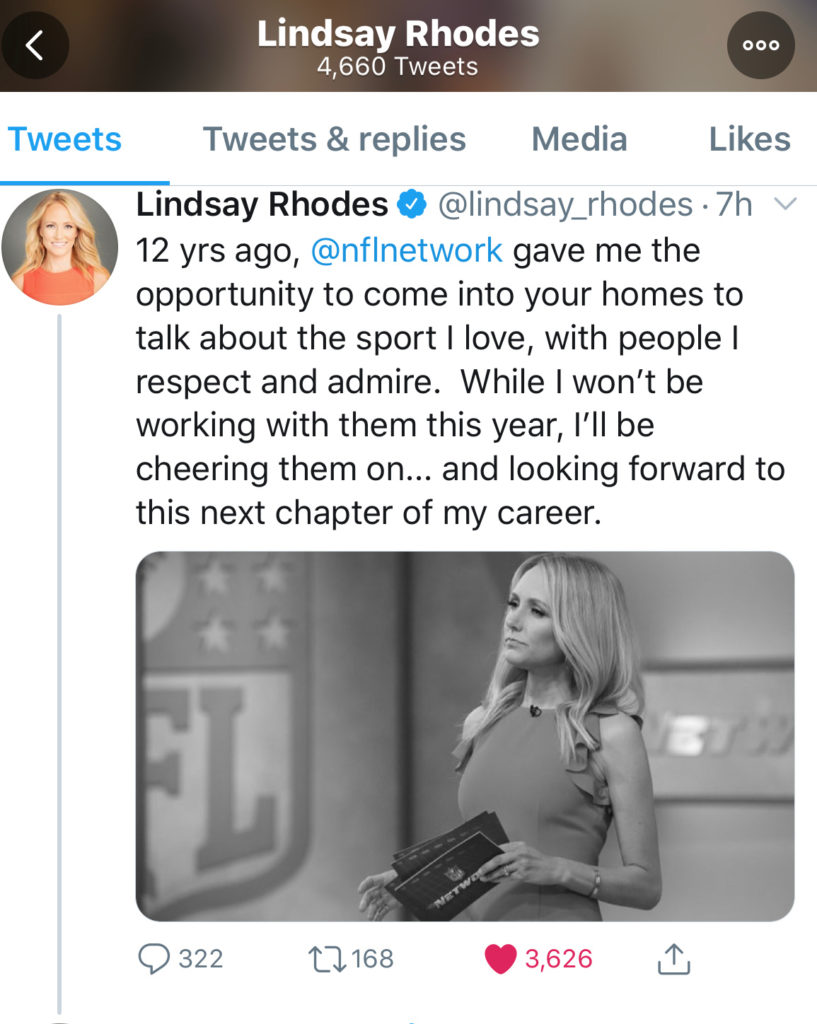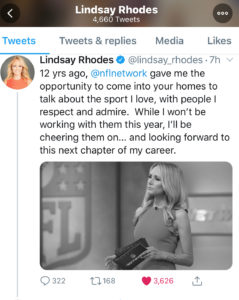 Unfortunately, the NFL network has one less female host.  Amidst the thousands of tweets about Chief's head coach Andy Reid's fogged up visor Thursday night was a post on Twitter from my former co-worker, Lindsay Rhodes. After 12 years at the NFL Network, she announced she is not working there any longer. It has been an incredibly tough year amidst all the cuts, furloughs, and firings in the media world and I hated reading this news. It is hard to reconcile the sadness surrounding the end of one person's run and the excitement for the start of another's.
"Do as I say, not as I do."
That is more or less my take away from the perfectly packaged, made for TV, social justice concoction that kicked off of the 2020 NFL season on NBC Thursday night.
There were plenty of pretty and highly produced moments in the pregame show before the matchup between the Houston Texans and reigning Superbowl champion, Kansas City Chiefs.  
Many of them felt contrived.
I mean who doesn't adore Alicia Keys? Yet the music video of her performing "Lift Ev'ry Voice And Sing" with a choir of socially distanced, masked singers standing behind her in the glistening Coliseum.… everything so perfectly lit and staged just didn't resonate, maybe because it is in total contrast to the actual shit show that most of us are experiencing in our daily lives right now. The racial strife and political chaos we are living through don't feel nearly as solvable as the NFL's painted signs and slogans made it look on television.
I usually get teary-eyed and nostalgic with this type of stuff, but for some reason, I was even bothered by the league's ad using Ladanian Tomlinson's Hall of Fame speech set to video of front line workers and Black Lives Matter protests amidst tag lines  like "it takes all of us" and "we represent the game."
Do they?
Does NBC?
When it was go time and the opportunity for a meaningful moment was beautifully plated and ready to be served, NBC's revered play by play announcer, Al Michaels didn't deliver. The man responsible for a magical miracle on ice Olympic moment in 1980 seemed unmoved by 100 NFL players linking arms in unity to bring attention to racism, social injustice, and a horrific summer filled with police brutality,  tragic deaths, and protests. Michaels was silent. 
NBC Analyst Chris Collinsworth said something, but it was hardly convincing, "I stand behind these players 100 percent, 100 percent, what they're trying to do is create positive change in this country that frankly is long, long overdue. So let's just get that out of the way and go call a football game." Said Collingsworth. Al Michael's response? A small head shake and then this, "Time to start the 2020 season…the Chiefs won the toss." That was it.  Michael's political allegiances aren't our business, but how can you be one of the league's voices and not remotely represent its voice this season? What a stark contrast it was to Kirk Herbreit's emotional plea for social justice on ESPN's first College Gameday show of the season. 
---
---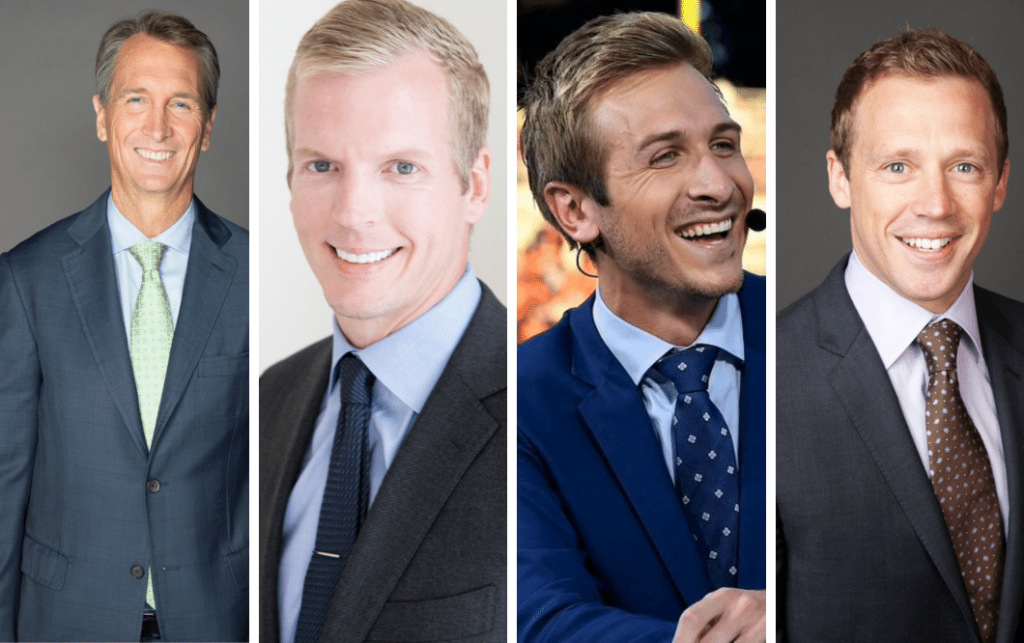 Given the increased spotlight on diversity and inclusion, I also couldn't help but notice NBC's lineup of NFL broadcast talent on display Thursday night including Chris Simms, Liam McHugh, Chris Collinsworth, and Jac Collinsworth. They are all really cool people, and they all look similar.
Women are reportedly watching the NFL in record numbers, and the Hispanic fan base growing at a quick pace. Why aren't THOSE demographics better represented on TV? And where again are all the women? I saw one all night—sideline reporter Michelle Tafoya for 5 to 10 minutes of total TV time in a three-hour broadcast. The people on my TV screen Thursday night don't come close to accurately representing the NFL's audience or its players. Instead, they closely resemble the demographic of the executives in charge of hiring. When will that change?
---
---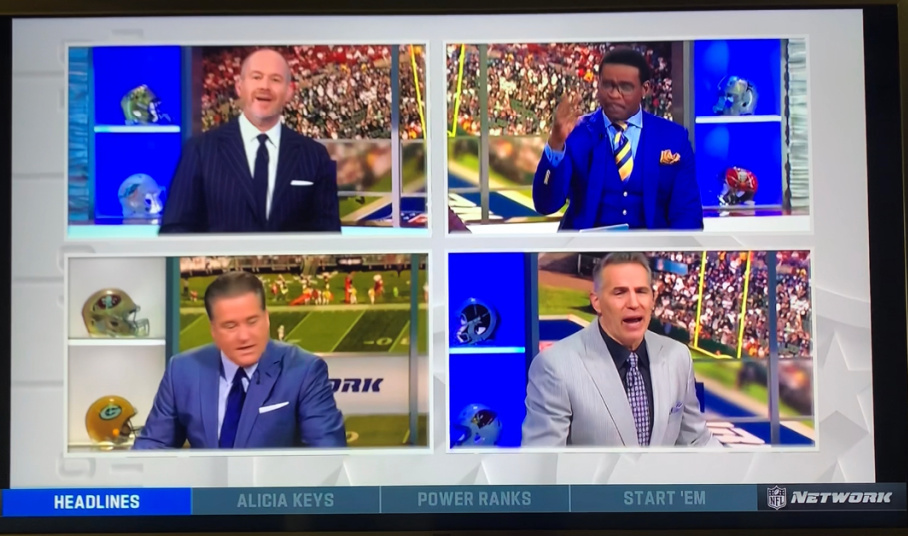 NBC isn't the only one seemingly falling short when it comes to equal airtime for women. Before kickoff, I also caught an NFL Network spot promoting its Sunday pregame show Gameday Morning. The studio crew is Rich Eisen, Steve Mariucci, Michael Irvin, Kurt Warner, and Cynthia Frelund. The promo informs viewers that "Game Day Morning is back." And "our guys get you ready for week one's kickoff." The guys are all featured in the promo, without a mention of the one and only female who is also a part of the Culver City studio show on Sundays, Cynthia Frelund. By the way, Cynthia is one of the smartest and most talented women I know. Of course, she literally isn't one of the guys, and in this case, sadly she's not one figuratively either. 
---
---