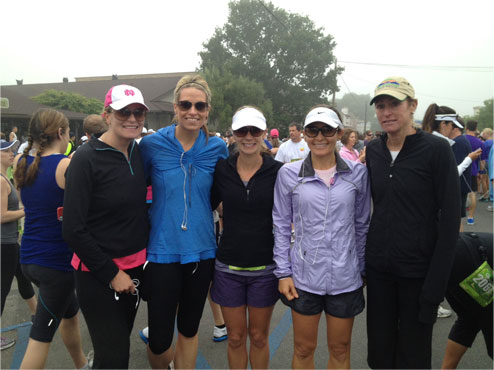 Running a marathon has never been a goal of mine. So when my sister, Amie, who has already accomplished running 26 miles, called me in January and asked me if I wanted to run a ½ marathon for mother's day I said, "N-O". A few days later called her back and said yes. (it helps that the run ended in a vineyard in Santa Barbara).
After a frantic football season where I ignored exercise and combatted sleep deprivation with two a day vente coffees, skittles and licorice, I decided I needed some motivation and this could be it. At first, I was petrified by the training schedule. Amie sent me a 10-week program that included Saturday runs of 10, 11 even 12 miles! I thought to myself, "I've never run more than 6 miles in my whole life, how in the heck am I going to do 12!" But guess what, I did! Along PCH highway in San Diego, in the rain! I ran 12 miles by myself. I was so inspired by mile 6 or 7 that I actually started yelling out things like, "good job" and "nice work" as I passed by other runners! While my legs and lungs were burning, I was beaming!
It was on that run, that I had an ah-ha moment. I was doing this because I didn't have the option not to. Because of my training program I had written it down on a calendar, scheduled it with my husband and kids and without even knowing it, I had eliminated the easy out. My sister and I had even signed up for an app called run tracker, that tracked and shared our run times and routes with each other every time we trained. Knowing someone else would see that info made me go faster, kept me from walking and more importantly from quitting! It got me thinking, could I be more consistent with regular exercise, even during the football season if I wrote it down and planned it? If something is not part of my daily calendar and the day gets busy (which it always does) I often abandon the idea. It'll be 3 o'clock in the afternoon and I'm at school pick up with my spandex outfit still on , but without an ounce of sweat on it because I've spent the whole day putting off my work out. But write it down, schedule it and I end up doing it. Miraculous!
I finished the ½ marathon in May and I've started plugging in exercise appointments into my fall football calendar. So next year I won't have to find something to motivate me come spring time!
Pic caption-My sis Amie Allen, me, Sally La Rocca, Stephanie Mirer and my cousin Kathee Martin ready to run!