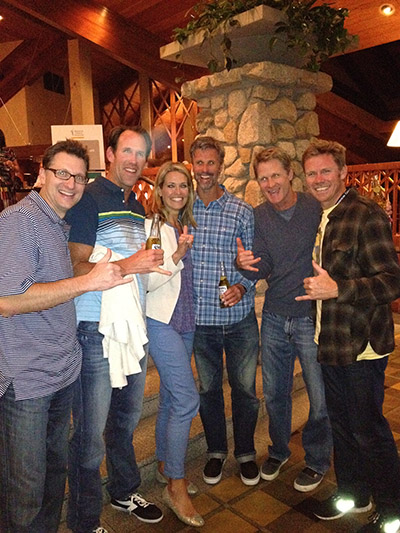 A month ago I worked a week in Federal Way, Washington. The window from my hotel room overlooked the off ramp of interstate 5.  Each time a semi truck exited, my window shook as it whooshed by.  The TV gods must have known that I was getting close to spilling their dirty little secret, that despite what everyone thinks, working in TV isn't actually all that glamorous.  After this weekend though, they have me back on their side. In fact, I just might have the greatest job in the world.
That's exactly what I'm thinking as I stand in the front row of the maroon 5 concert belting out "moves like Jagger" as if I'm even remotely in tune. My two Korbel champagne based cocktails have me thinking my dance moves are good enough to keep up with the kids in the club. It's the last night of the famed Lake Tahoe celebrity golf event, officially termed the American Century Championships.  For three days I sat in between the ropes in a rustic wooden lounge chair on the 17th hole of the picturesque Edgewood golf course. I ate, drank and was entertained by comedians, magicians and musicians. I rubbed shoulders with people like Charles Barkely, John Elway, Michael Jordan, Devil's Goalie Martin Brodeur, Super Model Angie Everhart, QB Aaron Rodgers, San Fran's Alex Smith, Dan Quayle (yes the former Vice President), actor Kevin Nealon, Jerry Rice and Surfer Kelly Slater.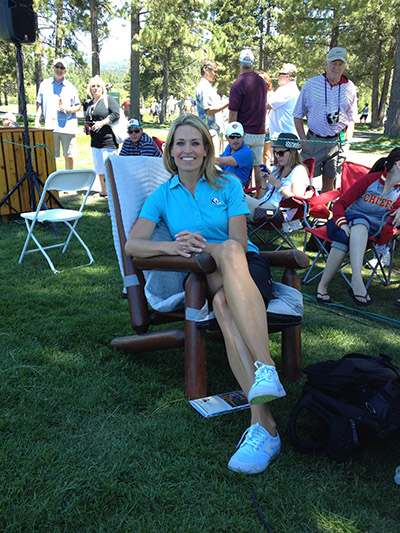 The NBC Golf crew must not know I usually average at least 3 miles circling the sidelines during a football game, because they gave me my own golf cart in case I needed to go anywhere. It was even personalized with my name written across the front of it! One day, I took it to the driving range and watched Dallas Cowboys QB Tony Romo hit golf balls while his dad told me the story of how he bought a then 8 year old Tony his first set of golf clubs for Christmas.  His first swing, Christmas morning, shattered the neighbors window.  Tony's improved a lot since then, so much so that he's a favorite in Tahoe now each year.  Miami Heat forward Shane Battier and I laughed about how old we are both getting, remembering our first meeting almost 15 years ago, when I interviewed him for a story on Duke basketball for Fox Sports Net's Goin' Deep.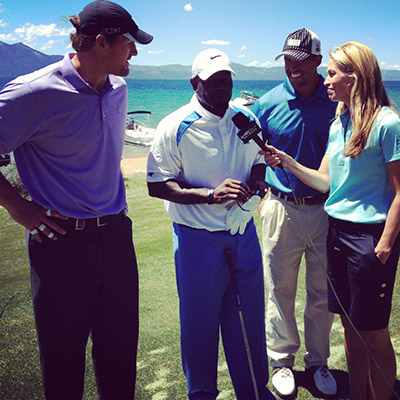 It was a chance for me to get to know people away from the sidelines and outside of the locker room. Buffalo Quarterback Ryan Fitzpatrick and his wife Liza have children similar ages to mine and are expecting their 4th child. They are threatening to hold a special edition of Crock pot Sunday" on the Thursday we come to town for NFL Network's Bills vs. Dolphins game. Arizona Cardinals head coach Ken Whisenhunt and his wife Alice shared parenting stories with me.  Raiders Quarterback Carson Palmer and I talked shoes.
The best thing about it was the weekend didn't feel like work at all.  I didn't get a lot of sleep. I got to see first hand that EVEN I could beat Barkley at a game of golf, but could never keep up with him at the casinos or at Karioke and that Michael Jordan is still one of the most powerful draws in sports.
Now that's not a bad weekends work!