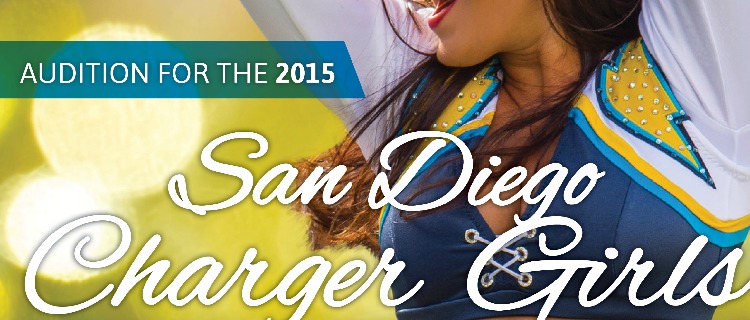 I haven't always been a huge supporter of professional cheerleading. In the male-dominated world of sports, I've sometimes viewed the utilization of cheerleaders as an exploitation of women. Having scantily dressed, swimsuit models with sparkly eye makeup on the sideline had me wondering if it's made it more difficult for women like me to be taken seriously on the football field. So when the San Diego Chargers asked me to serve on their judging panel for the selection of the Charger Girls, I wasn't sure whether or not I should take part. I'm so happy I did. What I learned in nearly five hours of interviewing some seventy finalists is that I had a lot of misconceptions about the females who pursue professional cheering. Turns out, my beliefs were based on stereotypes that just simply are not true. Here's what I learned once I allowed myself to see past the short skirts.
To become a professional cheerleader, you have to be beautiful. AND smart. I was blown away by the resumes of the applicants, which boasted laundry lists of achievements. Many of the women not only had college degrees, but they had graduated with distinctions. A few were working towards master's degrees. Their GPAs were impressive and so were their jobs. Unlike the football players who get to focus solely on their sport, professional cheerleading is a side job, because it doesn't pay nearly enough to make a full-time living. I met a business owner, a life coach, a medical sales rep, an ENT and a CPA. There were women studying to be nurses, physician assistants, lawyers, veterinarians and teachers. Women who were bilingual, not only in Spanish, but Farsi and Mandarin too.
One of the roles of professional cheerleaders is being a philanthropist. NFL cheerleaders serve as ambassadors for their teams, attending events that support the community and the U.S Military. When players can't or won't make appearances at hospitals and schools on behalf of the team, it's often the cheerleaders who are called upon to represent the organization. I met women who raise money for the Make-A-Wish Foundation and the Wounded Warrior Project. Two of the women had learned sign language and taught dance to children with hearing impairments. Others promote breast cancer awareness, train puppies that are used as guide dogs for the blind and mentor the disabled.
The biggest motivation for being a professional cheerleader is a love of dance. Cheerleaders don't get millions of dollars for turning a sporting event into a grand spectacle and providing entertainment for fans like the players do. But much like the players, they've spent decades honing their skills to get to this level. Almost all of the applicants I met started dancing when they were little kids and since then, they've dedicated years to the sport. They have extensive experience and have received multiple accolades in their field. Some of the applicants graduated from prestigious performing arts colleges; others had been named to all-star squads and voted captains on nationally ranked teams.
Professional cheerleaders are athletes as much as football players are athletes. If an athlete is defined in Webster's Dictionary as a person who is trained or skilled in exercises, sports, or games requiring physical strength, agility or stamina, then a cheerleader is certainly an athlete. No question. One of the finalists, who is also a contortionist, showed off an acrobatic move in the interview session that would have ripped all the seams in my pants and landed me flat on my backside. She did it in high heels. Was it an exercise that required strength and agility? You bet your butt it was! So you think anyone can dance? Didn't Jerry Springer, Master P and Kate Gosselin already prove that theory wrong on Dancing With The Stars? Turns out, dancing does require talent and athleticism.
Just like the men who play in the NFL have reached the highest level in their profession, so too have the women who cheer for them. As Sarah Thomas makes history for becoming the first female official in the NFL, let's celebrate the diversity of the women you can now find on the football field. From female officials, to sideline reporters, to cheerleaders. While we show up to work wearing vastly different outfits, we all deserve the same amount of respect, especially from each other.