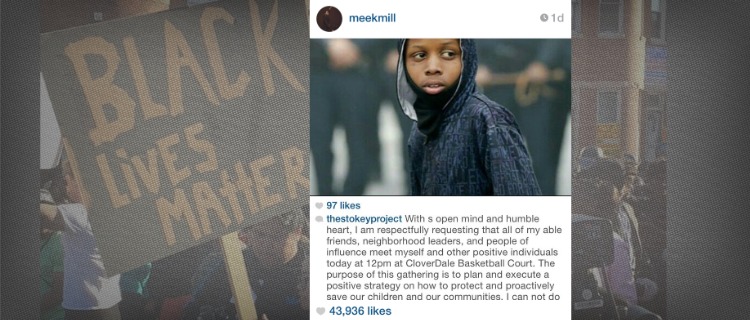 As parts of Baltimore, Maryland were being set on fire earlier this week in an angry response to the death of Freddie Gray, Ravens defensive end Kapron Lewis-Moore found himself a few blocks away from the chaos promoting peace. Lewis-Moore is from Weatherford, Texas, not Maryland, but when he saw what was happening in the city he's called home for the past 2 ½ years he says his first thought was that there has to be a different way. "I can't believe what I'm watching in Baltimore. Man… this is not the answer," he wrote on his Twitter page Monday night. So on Tuesday, when his former teammate, D.J. Bryant, invited him to a community gathering in the west Baltimore neighborhood where Bryant grew up, Lewis-Moore went. Just a few hours removed from a morning of off-season conditioning workouts at the Ravens suburban Baltimore headquarters, the 3rd-year NFL player was now in the epicenter of the chaos. "I just wanted to see it with my own eyes," Lewis-Moore said. What he saw though wasn't anything close to what he expected.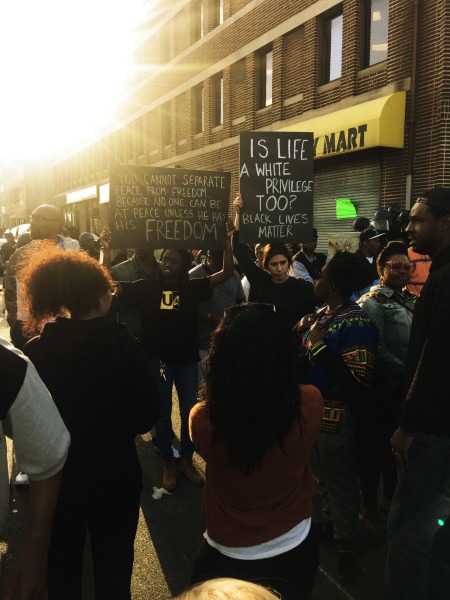 The place where former Ravens linebacker D.J. Bryant grew up, is a rough one. Bryant describes it as a neighborhood in an urban city that is economically deprived, a place where kids feel like they don't have any hope. A place where young people are misjudged and don't have an outlet for their frustrations. That's why it felt personal when Bryant heard President Obama use the word "thug" to describe the rioters. Bryant knows he could have easily been one of those misguided teens if his parents hadn't moved him to the suburbs when he was 10 years old and exposed him to options. He still knows people in the neighborhood and says what happened there Tuesday was one of the most beautiful sights he's ever seen.
It started when a prominent figure in Baltimore City, known as "Stokey," posted this message on his instagram @thestockeyproject:
"With an open mind and humble heart, I am respectfully requesting that all of my able friends, Neighborhood leaders and people of influence meet myself and other positive individuals today at 12pm at Cloverdale Basketball court. The purpose of this gathering is to plan and execute a positive strategy on how to protect and proactively save our children and our communities. I can not do this by myself, so please join us. Leadership matters and I can't think of a better time to call on our local celebrities whether it be an athlete, musician, actor or your personal hero. The love we have for our kids has to be shown now or their future will be determined in part by our actions or lack of…#BlackLivesMatter #BePositive #BePeaceful #DontTareDown #BeHopeful"
Bryant saw the message. He wondered whom he might bring that could serve as a positive role model and thought of Notre Dame graduate Kapron Lewis-Moore. Meanwhile, rapper Meek Mill had reposted the message to his 4.2 million followers and suddenly a meeting between a few men turned into a community block party amidst the looting and rioting. "It started as a group of men meeting at noon, then grew into a youth meeting. We had kids, so we had to feed them. We bought food and then got a deejay," says Bryant. And that's when it happened. Using the deejay's microphone, kids from all over the neighborhood stood up and started speaking and venting their frustrations. No Violence, just words. And all of a sudden, just like that, young men had an outlet.
For Bryant it was powerful to see the gap between the different groups he grew up forbidden to join, close. Even if for just one day, "I had never seen Bloods and Crips sit down with Nation of Islam and Baltimore Gorillas," says Bryant. "White people, black people, Asian people all came together." "It was such a good atmosphere," says Lewis-Moore of the peaceful gathering taking place amidst such intense conflict. "I had never seen anything like it. It was something small that I could be part of. That was the least I could do." Turns out, it might have been a lot.